Enhance Your Curves with Breast Augmentation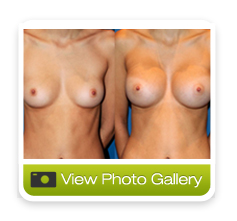 Breast augmentation with either saline or silicone implants is the most common operation performed in the United States, with well over 300,000 women undergoing an augmentation procedure alone every year. Commonly termed a "boob job," this procedure is designed to enhance the size and shape of a woman's breast through the placement of a saline (salt-water), silicone, or more "cohesive" "gummy-bear" type implant. The implant can be placed in a sub-glandular (beneath the breast tissue only) or sub-muscular (beneath the chest muscle) position depending on a patient's anatomy and desires. In most cases, San Diego breast augmentation surgeon Vincent Marin places the implant in through an incision around the areola or at the breast crease. The size and profile of the implant is largely based upon a patient's anatomy as well as their ultimate cosmetic desire.

WHAT TO EXPECT FOR YOUR
Breast Augmentation
What To Expect
Length:
1 hour
Anesthesia:
General or local with sedation
In/Outpatient:
Outpatient
Side Effects:
Temporary swelling, mild bruising, and some pain
Risks:
Pain, bleeding, infection, asymmetry, implant failure, scarring around the implant (capsular contracture)
Recovery:
Back to work: 3 days to 1 week
More strenuous activity: 2 – 3 weeks
Final Appearance:
6 – 8 weeks for implants to completely descend into the final position
Duration of Results:
Breast implants are warrantied for life. If there are no problems with the implant, there is no need to replace the device. However, when an implant is replaced, this is easily accomplished through a relatively minor procedure.
Breast Implants
Breast implants were invented in 1962 by Dr. Frank Gerow and Dr. Thomas Cronin at the Baylor College of Medicine – the same institution where Dr. Marin trained in plastic surgery. The implants initially were much less structurally sound, but very soft and almost undetectable. Since that time, the implants have been under intense scrutiny by both physicians as well as the FDA. They are now significantly improved, and have been demonstrated to be safe in hundreds of peer reviewed journals; many of which have been published in one of the premiere plastic surgery journals – Plastic and Reconstructive Surgery. Older models of the breast implant were often wide and made with a very thin silicone shell, failing to help "re-shape" a woman's breast. When placed upright, the implants would collapse and not hold their form, making the breast less full in the upper aspect. The newer "4th generation" silicone models are much more effective at producing a more attractive shape. You can learn more about the evolution of breast implants here.
Things To Consider For Your Breast Augmentation
1. Type of Implant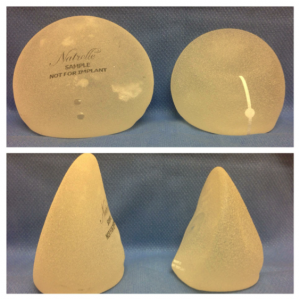 All breast implants are made with a nearly identical silicone "elastomer" shell no matter what the content – saline or silicone. This shell has either a smooth or textured surface depending on the specific design of the implant. The implants that are shaped or anatomic have to be textured so that they do not rotate in the body, whereas the round implants are usually smooth as there is not a problem with the round implants moving inside the breast pocket. However, we use every combination of implant and surface depending upon the need and goals of our patients.
Saline breast implants are shipped empty and then routinely  filled to a specified volume range (CCs) with the equivalent to IV fluid.  This allows the implant to be placed through a slightly smaller incision (roughly 1 inch) as the implant is inserted empty and then filled once it is placed in the body through a small fill tube. Having a "fill range" for each implant allows for the greatest degree of flexibility in controlling the volume of each implant; this is particularly helpful in cases with pre-existing asymmetry. This implant produces a more dramatic result and tends to push against the tissues more aggressively than the silicone counterpart. However, the implant tends to be more "firm" to the touch and has the reputation of having the highest incidence of postoperative rippling of any of the available implant choices.
Silicone implants are now available in two different forms – traditional silicone and the "gummy-bear" variety. Both of these implants are "pre-filled" from the manufacturer and arrive in sterile containers. Thus, no adjustments can be made in the operating room to "fine tune" the result. There are options to use different sized implants, but the volume options are fixed from the manufacturers. Traditional silicone implants are softer, more natural, behave more like a natural breast and have less rippling than the saline counterpart. Silicone breast implants are what 90 percent of our patients choose.
"Gummy bear" breast implants are more cohesive – meaning that they hold their form even when cut in half. These implants come in a round and anatomic or "teardrop" shape. Round implants can be textured or smooth, but ALL gummy bear implants have to be textured as they are not designed to rotate within the body.  These implants are a bit more firm than the traditional implants, which have more of a "marshmallow" feel. As a result, these implants hold their shape better than any other implant, but can be firmer to the touch. They also require a slightly larger incision to be able to deliver the implant into the breast pocket. See Dr. Marin's Fox 5 news segment on the topic for more information.
2. Incisions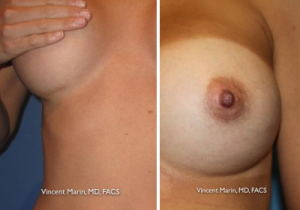 Incisions are a big concern for almost every woman undergoing a breast augmentation. Fortunately, nearly all incisions heal extremely well and this is rarely a concern for women after an augmentation procedure. We traditionally insert the implant through either the breast crease (inframammary incision) or through the areolar approach (the pigmented part of the nipple).  There are advantages and disadvantages to both incisions and most women can have the choice between either. The breast crease incision will keep the incision off the breast and hidden at the breast crease, however, a smaller bikini can possibly reveal this incision location. The areolar incision keeps the incision well concealed at the color change at the border of the areola and the breast skin, however it is not hidden in an anatomic crease. Less frequently women elect to proceed with an axillary (arm pit) approach to prevent any visible scarring near the breast.  However, in sleeveless tops, bikinis, or tank-tops, there is the possibility of visible scarring with the arm raised.
3. Above or Below the Muscle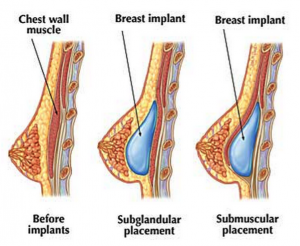 Both silicone and saline breast implants can be placed above or below the chest muscle – pectoralis major. The decision to use the muscle is largely dependent upon how much pre-existing breast tissue the patient has before surgery. The chest muscle serves to add camouflage to the upper aspect of the breast, which is the area most visible in a low cut top or bikini. In thin women, the implant edges could be potentially visible and placement of the implant beneath the muscle can help to significantly improve this. We commonly use the chest muscle (pectoralis major) to help soften the look of the implant to make it appear more natural. There is a phenomenon called "animation deformity" where the implant can be moved by the chest muscle, which only occurs with
implants placed beneath the muscle. However, there are several significant benefits to this approach:
The appearance is more natural
The incidence of long term complications is less
It is better for mammographic evaluation of the breast than over the muscle.
Despite these options, most women who are looking to have a breast augmentation do not have enough breast tissue and must have the implant placed under the muscle.
4. Implant Size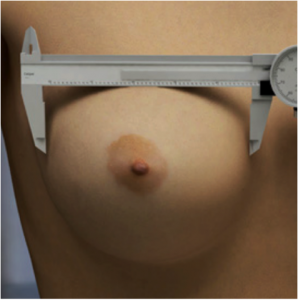 Choosing the "perfect implant" is often the most challenging aspect of breast augmentation surgery for patients. The success of this process is largely dependent upon communication between you and Dr. Marin. During your consultation, Dr. Marin will measure your breasts to determine the anatomic requirements to help better choose the appropriate implant. Simultaneously, he will take note of any breast asymmetry, chest wall shape and appearance and your skin elasticity.
The key measurement is the width of each of your breasts as our goal is to augment the entire breast – not choosing an implant that is too wide nor too small. We need to find a specific implant that fits both your anatomy as well as achieving your desired look.  Since a traditional cup size can be quite variable, bringing in photographs of specific "looks" that you are trying to achieve can be very helpful in communicating accurately regarding the ultimate outcome you desire.  Areas to consider when choosing the photographs are the overall shape or "roundness" of the breast, the fullness at the upper aspect of the breast and the degree of cleavage – just to name a few. We also offer patients the opportunity to "try on" their implants by sizing specific implants to get a sense of how you are going to look in clothes after the surgery.  Most patients find this to be very helpful in picking the ideal implant.
Additional Variables
Implant Profile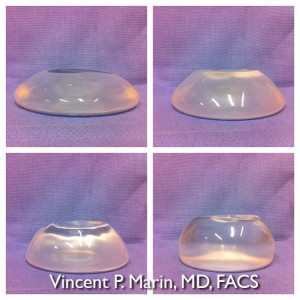 All breast implant manufacturers (Allergan, Mentor and Sientra) make both saline and silicone implants in three to four specific profiles: in essence a low profile, moderate profile, high profile and ultra high profile implant. To better understand this, for every specific volume, each implant will contain the same amount of fluid, but the low profile will be wider and less projecting out from the chest, the moderate is a bit narrower and projects further out, and the high profile is even more narrow with a more dramatic projection, and finally the ultra high profile being the most narrow with the most dramatic projection. Each of these implant designs is designed to help different women with different chest and breast shapes achieve their desired aesthetic breast augmentation goals.
Implant Shape and Texture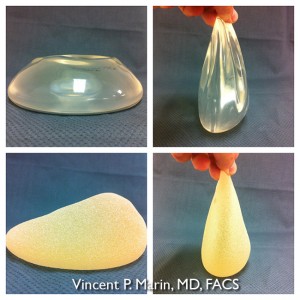 Saline and silicone breast implants come with both a smooth and textured surface, as well as a round and "teardrop" or anatomic shape. The most common combination in the United States for both saline and silicone implants is a smooth. However, with the advent of both a textured surface in combination with a shaped appearance, we are finding more and more women are electing to use this combination of implant shape and texture.
What to Expect with Breast Augmentation Surgery and Recovery
Breast augmentation with either saline or silicone implants is almost always performed as outpatient surgery. Our recommended approach is with a general anesthetic and always in a fully accredited (AAAASF) operating room under the supervision of a Board Certified anesthesiologist. The surgery usually takes a little under an hour to complete and most patients are on their way home less than an hour after the completion of surgery.
Your recovery should be relatively uneventful, and postoperative pain is well controlled with prescription pain medication.  You will remain in a surgical bra for 23 hours a day, removing this to shower only. We normally recommend that you limit your upper body activities for the first several days. All sutures are dissolvable and there is no need for suture removal. Patients wear a postoperative surgical bra or sports bra for several weeks after surgery as the new implants begin to settle into position.  Most women will begin to see their "final" result after three to six months. The biggest complaint we see is women asking why they didn't decide to do this sooner.
Breast Augmentation Consultations
Contact us for a complimentary consultation with Dr. Marin at our office if you are considering a breast augmentation.