Improve Your Breast Size and Shape with Breast Augmentation with Lift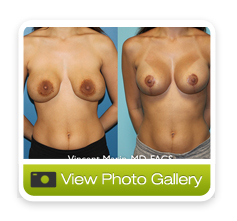 alone, an augmentation mastopexy or breast lift with an implant is a wonderful procedure to help address changes that have occurred after pregnancy and breast-feeding or just with the natural aging process. The loss of breast volume and the development of excess, unwanted skin results in a relatively empty and sagging breast, and an augmentation mastopexy surgery is designed to correct both of these common problems. San Diego surgeon Vince Marin finds that a breast augmentation with lift frequently results in some of the most dramatic and transforming changes in a woman's breast shape and size.
Breast Lift with an Implant Goals
Our patients who undergo a breast augmentation with lift are often attempting to achieve two specific goals: the restoration of breast volume using a saline implant or silicone implant and the tightening of excess skin through a breast lift performed at the same time. The extent of the lift is variable and depends upon the extent of the changes to the breast itself. Benefits of a breast lift with an implant are the following:
Improvement in position of sagging breasts
Enhancement of breast volume and size
Restoration of a youthful appearance
Correction of post pregnancy and breast feeding changes
Improved self-confidence and body image
In general, breast lift surgery involves the removal of excess skin with the tightening and repositioning of the breast tissue to a more youthful, elevated position. It is also frequently possible to correct breast asymmetries that have always existed or may have developed after pregnancy and/or breast-feeding. The extent of scarring is largely dependent on the position or shape of the breast at the time of your surgery. If the nipple is in a relatively good or elevated position, often tightening the skin through smaller incisions is possible. However, if the nipple is pointing in a downward direction, more work is required to restore you to an attractive, youthful breast shape, and this frequently involves a longer scar.

WHAT TO EXPECT FOR YOUR
Breast Lift with Implants
Length:
2 – 4 hours
Anesthesia:
General
In/Outpatient:
Outpatient
Side Effects:
Temporary swelling, mild bruising, and some pain
Risks:
Pain, bleeding, infection, asymmetry, implant failure, scarring around the implant (capsular contracture), incomplete correction
Recovery:
Back to work: 1 week
More strenuous activity: 3 – 6 weeks
Final Appearance:
2 – 3 months for implants to completely descend into the final position
Duration of Results:
Variable: results depend upon the elasticity and quality of the skin; the average lifespan of a breast implant is 10 years and implants may need to be replaced in a relatively minor procedure.
Breast augmentation surgery involves the placement of a saline or silicone breast implant above or beneath the chest muscle to augment the loss or lack of breast tissue. For additional information on breast implants please visit our breast augmentation page for a full explanation.
The combination of a breast lift with the placement of an implant is a powerful tool to make dramatic changes in deflated or sagging breasts. More subtle adjustments are possible depending upon the changes that have resulted from childbirth or with the normal aging process. Many our our patients decide to combine the breast augmentation with lift with a tummy tuck procedure and undergo a complete "mommy makeover." This combination of procedures can often restore you to a better than pre-pregnancy appearance.
Types of Lifts and Augmentation
Crescent Lift
For women who have a very subtle droop to the breast (and are usually undergoing a simultaneous augmentation with implants), a small crescent of skin above the areola (the pigmented part of the nipple) can be removed to elevate the nipple. The incision is no larger than what would be used for a standard breast augmentation and is very well tolerated. A saline or silicone breast implant can easily be inserted through this incision at the same time as the breast lift.
Peri-areolar Lift
This lift is designed to elevate the nipple as well as limit the scarring on the breast. The scarring is confined to the edge of the areola, but now encircles it entirely. Again, the scarring is very well tolerated and larger areola can be reduced to both a more youthful position as well as size. This technique can be used for women whose only complaint is a large areola and this is termed a "concentric mastopexy." A saline or silicone breast implant can easily be inserted through this incision at the same time as the breast lift.
Circumvertical "Lollipop" Mastopexy
This technique incorporates a vertical component to the lift for patients with more extensive ptosis (droop) to their breasts. Although there is a bit more scarring, this is one of the more effective and powerful procedures we can use to restore a youthful breast shape. This lift allows me to limit the amount of scarring along the breast crease that can occasionally be visible in low cut blouses or tops. It is often called a "lollipop" lift because the scar takes this final shape. A saline or silicone breast implant can easily be inserted through this incision at the same time as the breast lift.
Standard Mastopexy
A standard mastopexy is the most powerful lifting technique and is commonly reserved for breasts with the most significant ptosis or droop. The scar is in the shape of an "anchor" and provides me with significant lifting ability. Despite the scar, the standard mastopexy provides the most dramatic cosmetic improvements of any lift, often improving a patient's breasts beyond their original shape or even a patient's expectations. A saline or silicone breast implant can easily be inserted through this incision at the same time as the breast lift.
Breast Augmentation with Lift
If you live are considering a breast augmentation with lift procedure, feel free to contact our office at (858) 638-9800 to schedule a complimentary breast augmentation with lift consultation with Dr. Marin. During your appointment we can discuss your specific breast lift concerns and Dr. Marin can help answer your questions in detail to aid you in deciding whether this procedure is right for you.