Contour Your Body with Buttock and Thigh Lift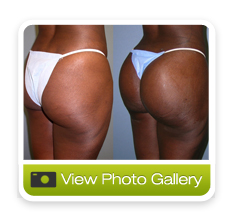 Extensive weight loss, pregnancy or even time can result in sagging of the hips and buttock resulting in a loss of feminine curves and excess, unwanted fullness in the hips and outer thighs. Despite continued diet and exercise, the descent of tissues will never be corrected, leaving you toned, but still without a sexy feminine silhouette. Under these circumstances, San Diego surgeon Vince Marin recommends a butt and thigh lift to help improve the contour of the hips and produce a fuller and shapelier buttock.
Buttock and Thigh Lift Candidates
Ideal buttock and thigh lift patients are those who have a loss or flattening of the buttock shape with excess or unwanted bulging in the hip and outer thighs. This leads to a "saddle bag" appearance in the area beneath the buttock visible both in and out of clothes. This can result from significant weight loss associated with diet and exercise or weight loss reduction surgery or may be related to your particular genetics.
Patients should be near their ideal weight for their particular height and have also achieved their weight loss goals. Excess, stubborn fatty tissue in the hips and thighs are regularly treated with simultaneous liposuction to these areas helping to improve one's overall contour. Liposuction alone, in patients who have excess skin, can potentially worsen one's appearance because the skin cannot sufficiently contract. In a buttock and thigh lift, the skin is tightened during the same procedure, allowing for a more aggressive liposuction and rewarding outcome.

WHAT TO EXPECT FOR YOUR
Buttock and Thigh Lift
Length:
2 -3  hours
Anesthesia:
General
In/Outpatient:
Inpatient or outpatient with supervised recovery
Side Effects:
Pain, swelling, bruising, scarring
Risks:
Pain, bleeding, infection, scarring, blood clots, pulmonary embolism, wound healing problems
Recovery:
2 – 4 weeks
Final Appearance:
2 – 3 months
Duration of Results:
Permanent
Buttock and Thigh Lift Surgery
Dr. Vince Marin performs the butt and thigh lift procedure under general anesthesia; it takes approximately two to three hours and is normally scheduled as an out-patient procedure. This can vary if additional surgeries are undertaken at the same time. A low incision that arches over each buttock to take into account the natural shape of the buttock curve is employed to aid in the removal of the excess skin. If liposuction of the hips and thighs is required, this is easily accomplished at the same time and without any additional incisions. The skin is lifted and tightened to help reshape and elevate the hip and thigh skin and produce a fuller, rounder buttock.
Our butt and thigh lift patients who have had more extensive weight loss or simultaneously have excess abdominal skin may be a better candidate for a body lift procedure. This involves a complete, 360 degrees correction of the buttock, thighs and abdomen. During your consultation, Dr. Marin will be able to tell you which procedure is right for you.
Boost Your Butt – Weighing in on New Cosmetic Surgery Procedures
Plastic surgeon, Dr. Vincent Marin on FOX 5 News in San Diego discussing the differences between butt lift procedures – the Brazilian butt lift using silicone butt implants and the thong lift where fat is taken from another part of the body via liposuction and injected back into the body. He also talks about the benefits and risks of the procedure.
Cast: Vincent Marin, MD
Buttock and Thigh Lift Recovery and Results
A buttock and thigh lift procedure is normally very well tolerated and one without significant pain. Patients will notice some mild discomfort with additional areas of temporary numbness. This usually lasts for several days to a couple weeks. Oral pain medication is used and routinely serves to keep most patients very comfortable through their recovery. We recommend the use of a compressive garment for up to six weeks after surgery. This can help limit your swelling and facilitate a more rapid recovery.
Drains, small tubes that help remove excess fluid that is produced in any surgery, are usually used. These are emptied every day and typically removed by the end of the first week. This will help in reducing swelling and making your recovery more rapid.
Most of our patients that have undergone butt and thigh lift surgery will notice an immediate improvement in the shape and contour of their buttock, hips and thighs at their first postoperative visit. Just like any surgery, swelling will persist for six to eight weeks depending upon the procedure and individual patient.
Butt and Thigh Lift Consults
Contact our office to schedule your consultation with Dr. Marin.