Contour Your Body with Liposuction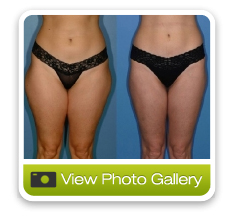 Unwanted fatty tissue is one of the most frequent complaints I commonly seen in my San Diego liposuction patients. Diet and exercise alone are often not enough to help patients rid themselves of excess fatty tissue in problem areas.
Liposuction is one of the best and most effective means to safely and permanently remove unwanted fat.  According to the statistics from the American Society for Aesthetic Plastic Surgery, over 340,000 patients underwent liposuction in 2008 by plastic surgeons alone. Liposuction involves the use of small "cannulae" or tubes attached to a suction device to remove unwanted fatty tissue beneath the skin.  This is performed through tiny incisions inconspicuously hidden in areas that are easily concealed.
Areas of excess fat can be permanently removed resulting in a more defined, enhanced appearance and contour.  Liposuction can be performed in multiple areas allowing you to improve several different locations during the same operation.
Tumescent Technique
In nearly all liposuction procedures, fluid (commonly termed "tumescent" fluid) is infused into the tissues to help expand the fatty layer as well as make the blood vessels constrict.  This improves the cosmetic outcome, as well as, limits the bruising seen after surgery.  In patients who undergo liposuction without a general anesthetic, we include a local anesthetic in the tumescent fluid to ensure the patients comfort throughout the procedure.
WHAT TO EXPECT FOR YOUR
Liposuction
Length:
1 – 3 hours (depending upon the extent of the procedure)
Anesthesia:
General or local with IV sedation
In/Outpatient:
Outpatient
Side Effects:
Temporary swelling, bruising and mild pain
Risks:
Pain, bleeding, infection, incomplete improvement and contour irregularities
Recovery:
Back to work: 1 – 2 weeks
More strenuous activity: 2 – 3 weeks
Final Appearance:
1- 2 months
Duration of Results:
Permanent
Suction Assisted Lipectomy (SAL)
Traditional liposuction was first developed in Italy in 1970s.  Since that time there have been a number of developments and refinements making it a more precise and elegant surgery, becoming the second most frequent cosmetic surgical procedure performed in the United States for much of the last decade.
Rigid tubes or cannulae are placed into the fatty layer beneath the skin through small, easily concealed incisions.  As the tube is passed through the treatment area, suction helps to remove unwanted or excess fat cells, permanently.  Different sized cannulae are used depending upon the area as well as the amount of excess fat being removed.
Power Assisted Liposuction (PAL)
Occasionally, as a result of previous liposuction or a patient's anatomy, it is difficult to easily pass the cannula through the deeper fatty layer.  Power assisted devices were developed to help surgeons treat these areas.  This technology takes advantage of rapid, tiny vibrations of the cannula tip that helps to penetrate and dislodge the unwanted fat making it more easily removed.  The benefits are more than just cosmetic with this technique.  Since it is easier to pass the cannula through the patient's tissues, there is frequently less swelling and bruising after the procedure.
Ultrasound Assisted Liposuction (UAL)
Similar to the power assisted technique, ultrasound assisted liposuction uses ultrasonic energy to break up unwanted fatty tissue while selectively sparing fibrous tissue, nerves and blood vessels. Ultrasound liposuction (VASER is the manufacturer) is one of the most effective ways to treat patients who have previously undergone liposuction, or who have particularly fibrous areas to be treated.
The ultrasound cannula is first placed into the fatty layer to liquefy the fat with the rapid vibration provided by the ultrasound probe. Then, through a second step of the procedure, traditional liposuction techniques are used to remove the liquefied fat.  Any remaining disrupted fat that is not removed is then absorbed and excreted in the body.  Since this is a two-step procedure, the technique takes longer to perform, but there is a significant increase in amount of fat successfully removed from the body in troublesome areas.
Liposuction Recovery
Liposuction results in swelling in the areas that are treated which is very dependent upon which areas are treated, the amount of fat removed and the individual patient.  For the first 24-48 hours, our liposuction patients may leak a little fluid from each of the incision sites. Postoperative discomfort is much like a strenuous workout and generally well tolerated with prescribed pain medication. Normally, a patient will wear a compressive garment that covers the areas treated for a period of two to six weeks.  This will be individualized for your specific procedure.
Areas Treated with Liposuction
Liposuction is a procedure with significant flexibility in that almost anywhere in the body where there is excess or unwanted fat it can be used.  Areas where liposuction is commonly used are:
Face and neck
Upper arms
Breasts
Upper and lower abdomen
Waist
Braline
Inner and outer thighs
Hips and buttocks
Knees
Calves and ankles
Liposuction is commonly combined with other procedures as the recovery is well tolerated in conjunction with tummy tucks, breast augmentation or breast lifts or even facial plastic surgery procedures.  Every year hundreds of thousands of patients successfully undergo liposuction helping to reveal a thinner, more confident individual.
Liposuction Consults
Contact our office for a complimentary liposuction consultation; I can determine if liposuction is right for you.
Read more: Talking Liposuction with Dr. Marin