Achieve Improved Nasal Contour with Revision Rhinoplasty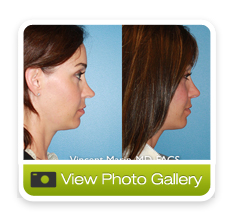 Revision rhinoplasty, also known as secondary rhinoplasty is one of the most challenging of all cosmetic surgeries. Rhinoplasty is a "surgery of millimeters" and this is further complicated by previously removed or damaged cartilage or bone, scar tissue and compromised blood flow in the revision rhinoplasty patient. Patients who have previously undergone a rhinoplasty may have developed cosmetic problems or even breathing problems as a result of their previous surgery. These patients require the surgical skill and artistry of a surgeon who has undergone extensive training in cosmetic and functional nose surgery.
During the first three years of San Diego revision rhinoplasty surgeon Vincent Marin's plastic surgery career, he was in practice with one of the world's experts in rhinoplasty, Dr. Jack Gunter. Dr. Gunter literally wrote the textbook on rhinoplasty (Dallas Rhinoplasty, Surgery by the Masters), and was the founder of the Dallas Rhinoplasty Symposium. Dr. Marin taught surgeons from all over the world who attended these conferences about the finer details of rhinoplasty and revision rhinoplasty surgery. Dr. Marin has published a number of articles on rhinoplasty and advanced techniques associated with the refinement of rhinoplasty surgery.

WHAT TO EXPECT FOR YOUR
Revision Rhinoplasty
Length:
2-4 hours
Anesthesia:
General anesthesia
In/Outpatient:
Outpatient, possibly inpatient if more extensive
Side Effects:
Temporary swelling, bruising, and some pain, mild bleeding from the nose, discomfort at cartilage harvest site
Risks:
Pain, bleeding, infection, breathing problems, incomplete improvement
Recovery:
Back to work with makeup: 1 – 2 weeks
More strenuous activity: 3 – 4 weeks
Final Appearance:
6 months to 1 year for swelling to completely resolve, most noticeable swelling is resolved by 2-3 weeks
Duration of Results:
Permanent
Revision Rhinoplasty Candidates
I have found that patients who have suffered a problem from a previous rhinoplasty are very motivated to research their surgeons and surgical techniques – something many of them neglect to do prior to their original surgery. Patients can develop problems related to both the appearance (either an over correction or under correction of pre-existing problems) or breathing difficulties that they may or may not have had previously. Commonly, our revision rhinoplasty patients have had some of the cartilage inside the nose used during their first operation. Thus, we must look to other areas as a source of cartilage to rebuild or reshape the nose. The sources for cartilage are frequently the ear or rib. The rationale for this is that we may need to rebuild areas of the nose and will need extra "building blocks" to accomplish this goal – and there is nothing we can use "off the shelf" that can adequately take the place of your own cartilage.
Revision Rhinoplasty Surgery
Much like the original surgery, secondary rhinoplasty features many of the same steps and techniques, except for the additional cartilage harvest site – either the ear (or ears) or rib. There is expected associated healing from these sites, but fortunately both of these locations are easily hidden soon after the procedure and should not complicate the process aside form the anticipated recovery. Secondary rhinoplasty is normally an outpatient procedure performed under general anesthetic with a Board Certified anesthesiologist. Most patients will go home under supervised care with a scheduled appointment the following day.
Secondary Rhinoplasty Recovery and Results
Much like the first surgery, splints and sutures will remain in place for six to eight days to ensure adequate healing. After the splint is removed, the nose WILL BE SWOLLEN, sometimes even more so than the first rhinoplasty surgery secondary to the amount of additional work that needs to be done. Gradually, the swelling will subside slowly revealing a more defined nasal shape with a correction of the preexisting problems. Again, the nose is still considered "swollen" for one year following the procedure and any revisions will be delayed until after this time period has elapsed. This prevents an unintended over or under correction based upon swelling – not the actual nasal shape.
Revision Rhinoplasty Consults
Revision rhinoplasty surgeon Vincent Marin has a wealth of knowledge and experience regarding revision or secondary rhinoplasty surgery. If you are interested in finding out more about your surgical (or non-surgical options) to correct problems related to a previous rhinoplasty, call our office to schedule a consultation with Dr. Vincent Marin today.