Improve Nasal Function and Appearance with Rhinoplasty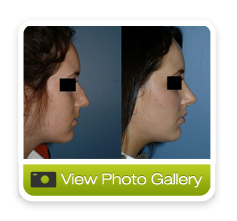 Rhinoplasty or nose reshaping surgery is designed to address problems related to both the shape and function of the nose in both men and women. This can be an issue that a patient has been born with (commonly a "family trait"), or something acquired from trauma or even previous surgery. Rhinoplasty is designed to refine and reshape a nose on the bridge as well as the tip and create an end result that is more in balance with a patients overall facial features. San Diego rhinoplasty surgeon Vincent Marin has had extensive experience with rhinoplasty surgery and served in a teaching position at numerous national meetings including the American Society of Plastic Surgery, the American Society for Aesthetic Plastic Surgery and the Dallas Rhinoplasty Symposium.
Rhinoplasty Candidates
The best rhinoplasty candidates are patients who have never had previous nasal surgery and suffer from a bump on the bridge of the nose, a "bulbous" or wide nasal tip or just generally unhappy with the shape of their nose. Additionally, our rhinoplasty patients who demonstrate a physical obstruction of the nasal airway (rather than allergies or medical issues) are usually good candidates for improvement in their airflow and breathing. This must be confirmed and documented by Dr. Marin after he has performed a full physical examination.

WHAT TO EXPECT FOR YOUR
Rhinoplasty
Length:
2-4 hours
Anesthesia:
General anesthesia (occasionally local anesthetic with IV sedation for smaller procedures)
In/Outpatient:
Outpatient
Side Effects:
Temporary swelling, bruising, and some pain, mild bleeding from the nose
Risks:
Pain, bleeding, infection, breathing problems, incomplete improvement
Recovery:
Back to work with makeup: 1 – 2 weeks
More strenuous activity: 2 – 3 weeks
Final Appearance:
6 months for swelling to completely resolve, most noticeable swelling is resolved by 2-3 weeks
Duration of Results:
Permanent
It is difficult to perfectly communicate what is "too big" or "too small" for every person. Thus, Dr. Marin has found that digital imaging of your photographs can help us create an image of your potential "new nose" that we both can agree on. We want you to be happy with what you see, but also, we need to feel that it is possible to produce this in surgery.
Rhinoplasty Surgery
There are two approaches in rhinoplasty, open and closed. The distinction is based upon a short incision across the column of the nose between the nostrils that is cut in an open approach. In certain circumstances, the closed approach is sufficient and allows for simple reduction of a bump on the bridge or small manipulations to the nasal tip. However, most of the closed approach is performed "blind" meaning that the surgeon does not see directly all of the areas requiring treatment. The open approach facilitates complete visualization of the anatomy of the nose and allows for more accurate reshaping of the nasal framework and airway.
Rhinoplasty surgery is an outpatient surgery performed under a general anesthetic with a Board Certified anesthesiologist. Usually, a small incision is made across the columella (the column between the nostrils) and the remaining incisions are entirely inside the nose. Dr. Marin then reshapes the cartilage and bone to produce a more refined and natural nasal shape that is in balance with your existing facial features. A splint is placed over the nose to help maintain the shape during the healing process and limit the swelling.
The Perfect Nose – Dr. Vincent Marin & Rhinoplasty
Advancements in rhinoplasty discussed on San Diego FOX 5 News help you achieve the perfect nose job.
Cast: Vincent Marin, MD
Rhinoplasty Recovery and Results
After surgery, the nasal splint and stitches will remain in place for approximately seven days. Our rhinoplasty patients normally experience some swelling and bruising underneath both eyes, and have some trouble secondary to the internal nasal swelling and internal splints. On day seven, the splint will be removed along with internal splints, if present, and sutures. The nose, however, is swollen and will not demonstrate its final appearance. Patients may experience some pain, but they can follow these tips to reduce post-operative pain.
The initial swelling usually resolves in the first two to three weeks of recovery so that most people will not realize that you have had surgery. However, you will notice that swelling persists. Over time, the nose continues to take a more refined and defined appearance as the remaining swelling subsides. Traditional teaching, however, is that the nose remains with some degree of swelling for up to one year. Our ultimate goal is to produce a new nasal shape that complements your face and produces a more balanced and attractive facial appearance.
Rhinoplasty Consultations
Rhinoplasty is one of the top five most popular surgical procedures for both men and women – and the second most popular procedure for men– over 138,000 procedures were performed by plastic surgeons alone last year! If you are interested in learning more about your rhinoplasty or nasal reshaping options, contact us for a complimentary cosmetic consultation with Dr. Marin where you can discuss your aesthetic goals as well as the cost of the procedure.
Read More: Talking about Rhinoplasty with Dr. Marin