6
San Diego Tummy Tuck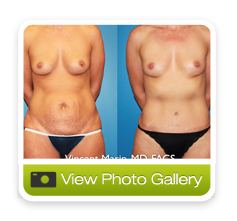 Commonly termed a "tummy tuck," an abdominoplasty is a procedure specifically designed to treat some of the unwanted effects that result from pregnancy or significant weight loss.  Many women who have given birth, or men and women who have lost a significant amount of weight, suffer from excess skin, stretch marks and weakened abdominal muscles.  Under these circumstances, a tummy tuck is the ideal choice to solve your problems that cannot be remedied with diet or exercise.
Tummy Tuck Candidates
The best tummy tuck candidates are patients who are at or near their ideal weight (for their height) and suffer from excess skin and weak or bulging abdominal muscles.  Many of these patients also suffer from stretch marks on their abdomen from the rapid growth of their child.  If a patient has significant fatty tissue or is significantly above their ideal weight, a tummy tuck may not be the right surgery.  The excess fat does not allow the skin to move freely, and thus, the skin removal is significantly limited.  In these patients, liposuction is usually the more appropriate procedure that can often be followed by a tummy tuck months later.
Many of my San Diego tummy tuck patients, however, suffer from both excess skin and weak muscles as well as a little excess fat.  Under these circumstances, I will combine liposuction with a tummy tuck procedure to treat both issues at the same time.  There is one concern, however, that the area being lifted and tightened (your upper and lower abdominal skin) cannot undergo liposuction at the same time.  This is for a medical concern related to the blood supply to the skin and not taking unnecessary risks with elective surgery.  I always stress to my patients that "even though this is elective surgery, it is still surgery" and must be treated as such.
View more tummy tuck before and after photos of patients that have undergone surgery with Dr. Marin.
Abdominoplasty Surgery
The procedure usually is performed under general anesthesia, takes approximately two to three hours and is normally scheduled as an out-patient procedure.  This is subject to change if additional surgeries are undertaken at the same time.  A low incision (to accommodate any low rise jeans etc.) from hip bone to hip bone is made and the skin is separated from the muscles underneath.  The muscles are tightened to restore a flat, tight tummy and then the excess skin is removed.  Normally, any stretch marks beneath the belly button are removed permanently.  A new belly button is created restoring a more youthful shape and appearance, much like its appearance pre-pregnancy or weight loss.
Frequently, my San Diego tummy tuck patients choose to combine this with a breast augmentation or lift to restore themselves to a better than pre-pregnancy appearance.  This has been commonly described as a "mommy makeover."  It is here that I frequently create the most dramatic, and desired changes in a woman's figure.
For men, muscle stretch is less of an issue as pregnancy is the leading cause for this problem. Thus, a simple removal of the unwanted skin (a skin only abdominoplasty) is the solution.  Scarring is similar, and the removal of skin is based upon the excess determined preoperatively.  However, if you have lost over 100 lbs, your abdominal muscles may have been stretched from the presence of intra-abdominal fat.  This could necessitate muscle tightening similar to a standard abdominoplasty.
Mini Tummy Tuck
Many women either after pregnancy or just over time, suffer only from a lower abdominal bulge or "pooch."  These patients don't need a full abdominoplasty and could benefit from the tightening of the muscles and skin below the belly button only.  The belly button is not repositioned, and thus there is no scarring around it. This approach is termed a "mini tummy-tuck." Since the procedure is less extensive, so to is both the scaring as well as the recovery.  Our San Diego mini tummy tuck patients will feel some discomfort after surgery, but this is more easily tolerated and does not require a pain pump.  The scar is again placed low on the abdomen so that it is concealed in a bikini or low-rise jeans.
Extended Tummy Tuck
Just like the women for whom a tummy tuck is too much and are candidates for a mini abdominoplasty, there are those where a standard procedure is not enough and are better suited for an "extended tummy tuck."  An extended tummy tuck is just that, further extended around the sides to address the patients lower back and flanks.  Many women have excess skin that is not confined to the abdomen alone and need a more complete removal of skin.  The scar stays within the borders of a bikini and extends around the waist stopping several inches short of the midline on both sides.  Drains are usually used to help reduce the accumulation of fluid beneath the skin for the first week.
In order to accomplish this, our San Diego extended tummy tuck patient needs to be operated on from both the front and the back.  Thus, the procedure takes a bit longer and patients may be required to be monitored overnight to ensure a safe and uneventful recovery.  Results are immediate and continue to improve and refine over the next eight to 12 weeks.
Tummy Tuck Recovery and Results
Tightening of the abdominal muscles is the factor that results in the most postoperative discomfort in an abdominoplasty surgery.  As a result, I commonly use a "pain pump" in these procedures.  Numbing medicine is continually released into this area for the first 72 hours after surgery.  This significantly improves a patient's postoperative pain.  Oral pain medication is used as well, and this combination serves to reduce pain after surgery and keeps most patients comfortable through their recovery.
Drains, small tubes that help remove excess fluid that is produced in any surgery, are usually used.  These are emptied every day and usually removed by the end of the first week.  This can help in reducing swelling and making your recovery more rapid.
Most of my San Diego tummy tuck patients will notice an immediate improvement in the shape and contour of their abdomen and waist as soon as they awake.  Just like any surgery, swelling will persist for six to eight weeks depending upon the procedure and individual patient.
San Diego Tummy Tuck Consultations
Contact our office to schedule your consultation with Dr. Marin.
Call 858.356.5187 or complete this form and someone from our office will get back to you.
Marin Aesthetics
Dr. Vince Marin
1431 Camino Del Mar
Del Mar, CA 92014
Phone: 858.356.5187
Toll Free: 888.638.9894
Fax: 858.551.9071
Dr. Marin provides plastic surgery services to the entire San Diego County community.