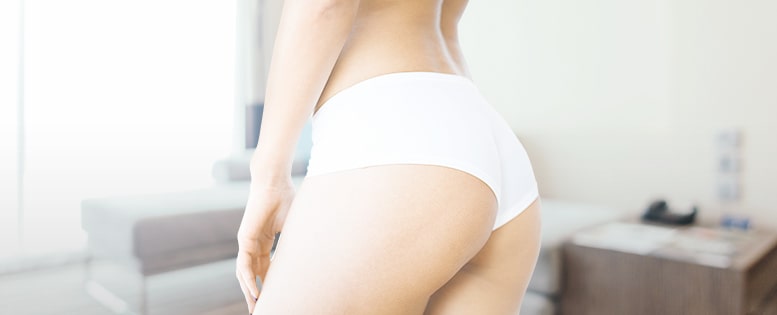 Brazilian Butt Lift surgery is a cosmetic buttock augmentation procedure that uses the body's own fat to enhance the size and shape of the lower body.
Dr. Vincent P. Marin is among the leading board-certified plastic surgeons in San Diego, CA, and an esteemed member of the American Society of Plastic Surgeons. Every year, Dr. Marin crafts hundreds of beautiful BBL results at his practice, Marin Aesthetics.
Cost & Financing
At Marin Aesthetics, the price for Brazilian Butt Lift procedures begins at $9,000. Your overall medical costs will be determined by a host of expenses including the amount of fat to be harvested and transferred from your body, anesthesia fees, and operating room fees.
Since BBL is a cosmetic procedure, the costs may not be covered by your insurance provider. However, we provide a host of financing options that can help shoulder the costs for our patients.
Marin Aesthetics accepts cash, all major credit cards, and personal checks.
Ideal Candidates
Ideal candidates for Brazilian Butt Lift surgery must have a Body Mass Index (BMI) of 25 – 30. Your BMI will determine your candidacy for the procedure, together with realistic expectations towards the results from the surgery.
Patients who have a BMI of over 30 have an increased rate of postoperative complications and thus must achieve this weight reduction prior to surgery.
In the event you may not have enough fat in your body for the procedure, you may opt for a Buttock Augmentation with Implants. This alternative uses solid silicone implants in order to enhance the shape and size of your buttocks.
Benefits
This procedure can have a significant effect on the contour and shape of your entire body. Since fat is harvested from a host of donor sites that include the lower back, thighs, abdomen, and arms, BBL is perfect for patients who are close to their ideal body weight, enabling them to shed off excess unwanted fat from the body.
Additionally, it can be used as part of a Mommy Makeover, a series of cosmetic procedures that include breast augmentation, tummy tuck, and liposuction.
Before & During the Procedure
Prior to your scheduled procedure, Dr. Marin will draw topographical marks across your body in the areas where fat will be harvested and later transferred.
Once a board-certified Scripps Memorial La Jolla anesthesiologist places you under general anesthesia, Dr. Marin will begin to harvest excess fatty tissue from your body. The harvested fat is processed, rinsed, filtered, and prepared for re-injection into the body. The fatty cells are then strategically injected into the tissues above the muscle and hips to help reshape the buttocks.
Since the entire procedure is performed using small cannulas, there is almost no scarring. Even in a string bikini, there is no evidence that you ever underwent the procedure.
From start to finish, the surgery can take 2 ⁠— 4 hours to complete and is an outpatient procedure.
WHAT TO EXPECT FOR YOUR
BRAZILIAN BUTT LIFT (BBL)
Recovery & Scars
Recovery from a BBL surgery can take 6 ⁠— 8 weeks.
Discomfort along your backside is expected and can be easily managed by prescribed medications from Dr. Marin. It is possible that drains will be kept to remove excess fluid as your body heals from the surgery and will be removed within 3 ⁠— 5 days, during your scheduled follow-up visit with Dr. Marin.
Our team will also provide you with a compression garment that must be worn consistently over the treated areas for 1 ⁠— 2 months.
Additionally, Dr. Marin recommends that you avoid prolonged sitting for 3 weeks, and submerging yourself in pools and hot tubs for 4 weeks. After this time period, you may return to work upon clearance.
It is also important to avoid strenuous exercise and household chores for at least 1 month. However, it is advised to take short walks to help reduce swelling and the chance of blood clots in the legs.
Testimonial
"After researching consulting many doctors in three different states I opted to go with Dr Marin because he was the only doctor that not only offered his professional opinions but truly considered my personal concerns expectations He knows what hes doing he truly cares about his patients I..."
"I cant say enough amazing things about Dr Marin and his incredible staff I had a consultation at a different place a year prior and thought it went well until I met Dr Marin and was completely blown away They care so much and I felt so comfortable and confident There is no other place I will e..."
"I could not be more pleased with not only my results but Dr Marin and his whole staff My overall experience has been amazing I would do it all over again My only regret is not having had the courage to do it sooner I spent a year pondering on whether or not plastic surgery was for me A whole y..."
"Doctor Marin and his staff have been outstanding They have been excellent throughout my initial consultation surgery and post op I can not express how grateful I am to Dr Marin His surgical skills have changed my life Im 2 weeks post op already my results are incredible I had severe deformit..."
"Dr Marin and his staff were absolutely amazing A lot to be said about a doctor and staff that take the extra time to make you feel like more than just a number Dr Marin himself is a very well educated man that is an expert in every service he has to offer It is very evident that he does not cut..."
Your New Look After Brazilian Butt Lift
Final results will be evident within 6 months and the results you obtain are permanent, provided you maintain your weight and a healthy lifestyle. The fat cells transferred into your buttocks will grow and age as you do.
Once your Brazilian Butt Lift results settle, you may find that your clothes and swimwear fit you better. You will have a more balanced and shapely body. Your buttocks will be rounder, firmer, and more youthful, giving your appearance additional curves.
Request Your Consultation
To learn more, you can schedule an appointment online or you can call 858-638-9800
*The images and content provided on this website are developed to educate the public on the procedures offered at Marin Aesthetics. Individual results vary per patient. To assess your candidacy per procedure, we strongly recommend scheduling a formal consultation with board-certified plastic surgeon, Dr. Vincent Marin.