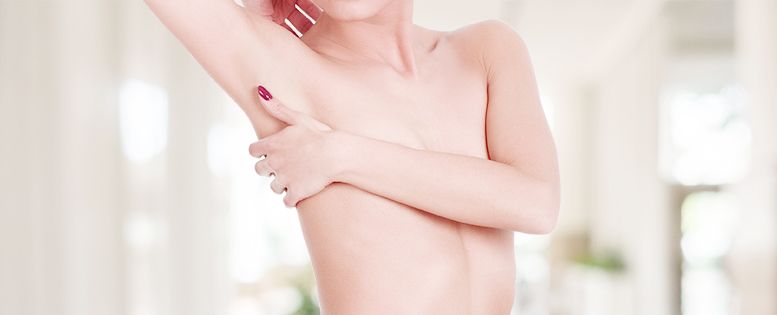 Women who have previously undergone breast augmentation surgery may eventually decide to remove their implants. This can be for a number of different reasons that include weight changes, complications such as capsular contracture, or merely a desire to have smaller and more natural breasts.
Top San Diego board-certified plastic surgeon, Dr. Vincent Marin, regularly performs breast explant surgery to address these concerns and help alleviate health issues. Additionally, patients may wish to consider explant surgery together with a breast lift or a breast implant revision surgery depending on their final desired aesthetic goal.
Cost & Financing
In San Diego, breast implant removal costs between $3,500 and $7,500 depending on the degree of surgery required. However, if the surgery involves capsulectomy or breast lift, the prices may be higher.
The final price can depend on a number of factors that include:
The overall difficulty of the procedure
The location of your surgical procedure and other miscellaneous medical expenses
The incision or technique required
If your breast implant removal is combined with any other surgeries (i.e. mastopexy and/or fat transfer)
We accept cash, personal checks, and all major credit cards. Insurance coverage is possible provided that the surgery is medically necessary, such as for breast cancer. To provide our patients with further assistance, we offer a number of payment options through Care Credit and Alphaeon Credit.
Explant Surgery Techniques & Recovery
Implant-Only Removal
Breast implant removal can be accomplished through the previous breast incision unless your augmentation was performed through a transaxillary (armpit) or trans-umbilical (belly-button) approach. If the implant is to be removed from a new incision, most women can choose from either a breast crease or areolar incision. This is a relatively straightforward procedure with very limited downtime.
Recovery: You should be back to normal activities and work in less than 1 week. Your breasts will remain swollen anywhere from 2 – 6 weeks with varying degrees of recovery. It normally takes between 3 – 6 months to see the final result due to the need for the skin to contract. Reduction scars are small and easily concealed.
Capsulectomy
Patients who suffer from capsular contracture will undergo a capsulectomy. This happens when scar tissue forms around the implant, warranting complete excision. Some women desire to have the implant and capsule removed together in a procedure known as en bloc capsulectomy. This approach is more involved than the removal of the implant alone as the entire anterior and posterior walls of the capsule must be carefully separated from the breast tissue and pectoralis muscle. The approach is most common if the woman has old silicone implants that have a higher chance of being ruptured. This will facilitate a more complete excision of the implant shell and silicone gel.
This procedure can be combined with a breast lift if needed.
Recovery: This approach takes considerably more time and effort on the surgeon and involves more recovery for the patient. A drain is routinely used to help remove excess fluid production that happens during the recovery period. Final results are not seen until 3 – 6 months after the surgery and will continue to improve with time.
Breast Implant Removal and Lift
Women who have larger implants or have had their implants for an extended period may need a breast lift with their implant removal. This process involves removing excess skin and breast tissue to tighten and lift the breast to a smaller but perkier appearance. The extent of the lift is based upon Dr. Marin's examination and will be discussed in detail during the consultation. Dr. Marin's ultimate goal in these situations is to produce a lifted and youthful breast shape with the least amount of scarring.
Recovery: It may take 4 – 6 weeks before your body recovers from surgery. Despite a larger scar, the results are so immediate that very few women regret undergoing the procedure. In addition, implant removal and lift can be performed together with a tummy tuck to better contour the body for their small breasts.
Before & During Explant Surgery
Anesthesia
Breast explant surgery may be performed under local or general anesthesia. We require general anesthesia when undergoing en-bloc capsulectomy and breast lift. This will relax the body and make it easier to remove the capsule and breast tissue from the chest muscles.
Your Team
Your anesthesia will be provided by an ASMG Scripps Memorial La Jolla Board-Certified Anesthesiologist. A licensed RN will serve as the circulating nurse and a Scrub Tech will assist Dr. Marin through every step of the procedure.
Surgery Length
A typical breast implant removal surgery ranges between 1 – 4 hours, which varies depending on the complexity of the procedure. Dr. Marin will continue to operate until he feels that the desired aesthetic outcome is achieved.
WHAT TO EXPECT FOR YOUR
BREAST IMPLANT REMOVAL
RISKS
Bleeding, hematoma (blood accumulation), seroma (fluid accumulation)
FINAL APPEARANCE
3 – 6 months
ANESTHESIA
Local or General
RECOVERY
No strenuous activities for 2 – 3 weeks
Return to work: 2 – 3 weeks
DURATION OF RESULTS
Depend on skin quality and lifestyle choices (diet & exercise)
SIDE EFFECTS
Limited movement after surgery, swelling and bruising

Recovery & Scars
After surgery, you will be placed in a surgical bra provided by Dr. Marin. The bra stays in place until you see Dr. Marin the following day to ensure you are healing well and free from complications. For most patients, some degree of pain and discomfort is expected, but normally well tolerated with oral pain medication. Most women are able to stop taking prescription medication after a few days.
Over the next several weeks, we perform routine check-up visits with you to remove any permanent sutures and change the surgical tape. This keeps the incisions protected and reduces tension on the skin. All of the deep sutures dissolve in time, minimizing any discomfort you may experience.
Your new breast shape will settle as the scars mature and slowly become less visible. They will fade from a pink color to a thin white line over the course of a year.
Testimonial
"After researching consulting many doctors in three different states I opted to go with Dr Marin because he was the only doctor that not only offered his professional opinions but truly considered my personal concerns expectations He knows what hes doing he truly cares about his patients I..."
"I cant say enough amazing things about Dr Marin and his incredible staff I had a consultation at a different place a year prior and thought it went well until I met Dr Marin and was completely blown away They care so much and I felt so comfortable and confident There is no other place I will e..."
"I could not be more pleased with not only my results but Dr Marin and his whole staff My overall experience has been amazing I would do it all over again My only regret is not having had the courage to do it sooner I spent a year pondering on whether or not plastic surgery was for me A whole y..."
"Doctor Marin and his staff have been outstanding They have been excellent throughout my initial consultation surgery and post op I can not express how grateful I am to Dr Marin His surgical skills have changed my life Im 2 weeks post op already my results are incredible I had severe deformit..."
"Dr Marin and his staff were absolutely amazing A lot to be said about a doctor and staff that take the extra time to make you feel like more than just a number Dr Marin himself is a very well educated man that is an expert in every service he has to offer It is very evident that he does not cut..."
The Ideal Candidates
The ideal candidates for breast implant removal surgery are women who:
Are in good health
Are within their ideal body weight
Experience sagging and/or asymmetrical breasts
Have experienced complications from their breast augmentation surgery
Have experienced complications such as implant rupture and capsular contracture
Your New Look After Breast Implant Removal
Your breast size will be smaller. Many women who have had their breast implants removed are happy with their new shape. The removal of their saline or silicone implants can help to improve breast shape and decrease the physical discomfort attributed to excessively large breasts. Patients who felt that their implants were too large for their bodies often feel better physically. These women experience better posture and decreased shoulder problems because of the newfound balance with smaller breasts.
If you are interested in having your implants removed with or without a breast lift surgery, schedule your consultation now! Dr. Vincent Marin and our team will be happy to discuss your goals and expectations.
Request Your Consultation
To learn more, you can schedule an appointment online, or you can call 858-638-9800
*The images and content provided on this website are developed to educate the public on the procedures offered at Marin Aesthetics. Individual results vary per patient. To assess your candidacy per procedure, we strongly recommend scheduling a formal consultation with board-certified plastic surgeon, Dr. Vincent Marin.