This patient is a 24-year-old woman who previously underwent a breast augmentation with saline implants. She subsequently became pregnant and delivered a healthy baby, however, she suffered significant unfavorable cosmetic changes to her breasts. She presented me with complaints of the breasts being misshapen, droopy with larger areolae. And she was interested in her surgical options to correct these issues.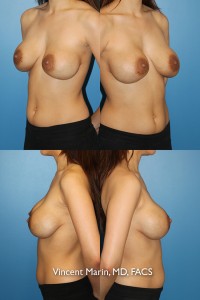 The patient underwent the removal of her saline implants and replacement of a smooth round silicone gel breast implants to help limit any of the associated problems with a saline device. To reshape her breasts, we performed a lollipop breast lift to help correct some of the unwanted changes that resulted from her pregnancy and breastfeeding. This procedure also helped to lift and tighten the breast as well as reposition her nipple in a more youthful location. She is seen here only two months after her procedure with her scars continuing to improve and a much more attractive result.
*The content in this blog is developed to spread the awareness towards plastic surgery. Our blog is not intended to serve as a replacement for an actual in-office consultation with Dr. Marin. As such, the information within this blog reflects the unique cases of our individual patients.