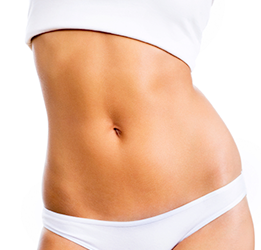 Tummy tuck surgery, also known as a "abdominoplasty", was performed over 100,000 times in the United States last year by plastic surgeons alone. In places with sunny climates like San Diego, bikinis can be worn eight months a year. But for people who suffer from excess tummy skin and stretch marks, revealing outfits are not an option.
Tummy tuck surgery helps improve some of the issues that arise from pregnancy or significant weight loss. Many women, and men included, can suffer from excess skin, stretch marks, and weakened abdominal muscles after a large drop in weight through diet, exercise, weight loss surgery, or child delivery. When this occurs, a tummy tuck is often the best (and frequently the only) means to improve your abdominal contour. There is no diet and exercise routine that will rid you of excess skin once this develops.
Ideal Candidates for Tummy Tuck
The best candidates for a tummy tuck are those who have:
Excess abdominal skin
Stretched abdominal muscles
Significant abdominal stretch marks
Realistic goals about the procedure
Physically healthy bodies and at a stable weight
The best candidates for a tummy tuck are those who have reached a goal weight that they can maintain. Patients who remain overweight are often not the best candidates for an abdominoplasty, as their skin is less mobile with a thicker layer of fat, and less skin can be removed.
As a result, we encourage patients to continue to reach a goal weight prior to proceeding with a tummy tuck. Occasionally, these patients are better suited to a liposuction procedure to help thin or "de-bulk" the abdominal fatty layer. Then, a tummy tuck procedure can be performed at a later date to address the excess skin.
Similarly, we frequently see patients who have some excess fatty tissue along the waist. Once we tighten the abdomen, this area can become more noticeable. Thus, liposuction is regularly added to the waist in conjunction with the overall tummy tuck procedure to help achieve the best overall contour and shape.
WHAT TO EXPECT FOR YOUR TUMMY TUCK
LENGTH
1 – 3 hours (depending upon the extent of the procedure)
RISKS
Pain, bleeding, infection, fluid collections, wound healing problems, blood clots
FINAL APPEARANCE
2 – 3 months
RECOVERY
Back to work: 1 – 2 weeks
More strenuous activity: 4 – 6 weeks
DURATION OF RESULTS
Permanent
SIDE EFFECTS
Temporary swelling, bruising and mild pain.

3 Types of Tummy Tuck
Tummy tuck surgery can be tailored to meet the needs of every patient. There are three types of tummy tuck which Marin Aesthetics perform:
Mini Tummy Tuck
A "mini" tummy tuck is a procedure designed to address skin or muscle bulge that are contained to the lower abdomen only (from the belly button down). Some women complain of an abdominal "pooch" or bulge that is localized to the lower abdominal wall only. In this surgery, excess skin is removed and the muscle is tightened, but the belly button is not repositioned, and thus there is no scarring around it. Scarring is placed low on the abdomen, easily concealed in a bikini or low-rise jeans.
Standard Tummy Tuck
A traditional tummy tuck involves a hip-to-hip and belly button incisions. Using the incisions placed between the hipbones, Dr. Marin will tighten your abdominal muscles and remove excess skin and fat. It's the most commonly performed type of tummy tuck and is often combined with liposuction.Most women who just had pregnancy opt to undergo breast augmentation simultaneously for a better appearance. This combination is known as a "mommy makeover" where we complete dramatic transformation for moms who want to restore their pre-pregnancy bodies.For most men, their primary concern is skin and less of the underlying muscle stretch. They are more often candidates for a "skin only" type abdominoplasty where only the skin is removed and the muscles do not need to be addressed. However, patients who have lost more than 100 lbs. may need muscle tightening because of the "intra-abdominal" fat that accumulates with weight gain. This can stretch the muscles internally resulting in a lax abdominal wall.
Extended Tummy Tuck
Some women have excess skin that is not merely confined to the abdomen alone – needing a more extensive removal of skin. For some, an extended tummy tuck is better suited for their needs. It follows the same procedure of a standard tummy tuck but further extended around the lower back, the upper buttock, and the sides to address the patient's waist.The scar stays within the borders of a bikini and extends around the waist stopping several inches short of the midline on both sides. Drains are routinely used to help reduce the accumulation of fluid beneath the skin during the early recovery period.Since our tummy tuck patients need to be operated on both the front and the back sides, the procedure takes a bit longer. This may require patients to be monitored overnight to ensure a safe recovery. Results may be noticed immediately and will continue to improve over the next 8-12 weeks.
Undergoing Tummy Tuck Surgery
Most tummy tuck procedures are performed in a fully accredited outpatient surgical facility like Marin Aesthetics in La Jolla, California under general anesthesia. All patients are assessed preoperatively to ensure that they are good candidates for the surgery and the anesthetic.
Typically, tummy tucks last for 1-2 hours, but for a more extensive type, it may take to 3-4 hours. In the standard procedure, the incision extends from one hip bone to another. Dr. Marin always strives to keep the incision very low on the abdomen so that it can be easily concealed.
After the incisions are made, the skin and fatty tissues are separated from the underlying muscle layer all the way to the rib cage. The muscles are then tightened from the rib cage down to the pubic bone. Dr. Marin routinely does this in two layers to ensure long lasting results. The excess skin is then assessed and removed.
Our surgeon routinely uses progressive tension sutures (PTS) or quilting sutures to help eliminate the space and limit the need for drains. This also helps to keep the scar narrow and maintain its position. Dr. Marin then sutures the skin back together and creates a new, more youthful belly button.
What to Expect after Tummy Tuck?
Most of my tummy tuck patients will notice an immediate improvement in the shape and contour of their abdomen and waist as soon as they awake from their procedure.
You will feel sore and tender after the surgery. If you have undergone a tummy tuck that involves fixing abdominal muscles, you may feel more pain and discomfort. "Skin-only" procedures often are much better tolerated, compared to the former. Marin Aesthetics offers patient Exparel, a 72-hour long acting pain reliever injected to the tissues – allowing patients to only experience a little pain in the areas that are most troublesome.


OMG!! My boobs look absolutely unbelievable!!! I cant thank you enough for making this experience so wonderful. Your work is impeccable! From the first phone call, you and your staff have been so
Dr. Marin is a magician, I wake up happy every day now
Words fail to adequately convey how grateful and genuinely happy I am with your work. …and I couldn't have imagined it coming out any better. This has been the BEST pampering I have ever
Wow! Voila? Bingo! or "D" all of the above! Loving your work…. Thank you, thank you! You chose the perfect everything for me! Merry X-Mas and best for a great 2009
My surgeon Dr. Vincent Marin far exceeded my expectations. Three months ago I had breast augmentation and rhinoplasty performed on the same day and could not have asked for a better team of highly

Tummy Tuck Recovery and Scars
The downtime for tummy tucks is at least 2 weeks. However, if you have undergone a more extensive procedure, you will need up to 6 weeks of rest and recovery. It is best for you to avoid strenuous physical activities like exercise until Dr. Marin advises you so.
During the recovery, oral pain medication with muscle relaxation is routinely used, helping to keep patients comfortable through their recovery. We use a single drain tube in most tummy tuck surgeries that stay in place for approximately one week. This can help in reducing swelling and making your recovery more rapid. Just like any surgery, swelling will persist for six to eight weeks depending upon the procedure and individual patient.
Scarring will depend on the type of tummy tuck you have chosen. Whichever the type, Dr. Marin will do his best in hiding your scars below your bikini line, so you can feel free to wear bikinis and low-rise jeans still.
Your New Look After Tummy Tuck
Tummy tuck helps you enjoy an enhanced and more aesthetically-appealing abdominal area. It will release you from the worry of the unpleasant toll of pregnancy and significant weight loss around the tummy. It will give you dramatic results in the waistline – erasing unsightly stretch marks. Ultimately, tummy tuck gives you a flatter, tighter, and more beautiful abdomen.
Request Your Consultation
To learn more, you can schedule an appointment online or you can call 858-638-9800
9:04 AM