Achieve the Pain-free and Comfortable Size of Breasts for your Body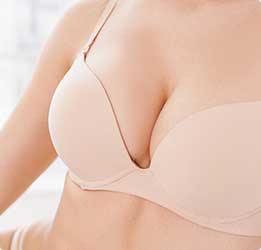 Many women are born with excessively large breasts that can negatively impact their lives in many ways. Large or 'hypertrophic' breasts can result in a number of physical problems such as back and neck pain, shoulder grooving from the weight of bra straps and significant limitations in one's physical abilities. Women frequently have difficulty in finding attractive clothing that fits and can become very self-conscious about their breast size, purchasing tops to hide their breasts or bras to minimize their size. San Diego plastic surgeon, Dr. Vince Marin performs breast reduction surgery to address these problems. Aside from this, Dr. Marin offers revision for those who are not satisfied with the result of their initial breast reduction.
Benefits of Breast Reduction Surgery
Breast reduction surgery has the benefit of not only producing a more attractive breast size and shape but also improving many of the problems that have resulted from the weight of excessively large breasts. For this reason, many insurance companies will reimburse a patient for this type of surgery providing certain requirements are met.
WHAT TO EXPECT FOR YOUR BREAST REDUCTION
RISKS
Pain, bleeding, infection, asymmetry, recurrence, nipple sensation changes, incomplete correction
FINAL APPEARANCE
2-3 months for swelling to completely resolve
ANESTHESIA
General or local with sedation
RECOVERY
Back to work: 1-2 week
Strenuous activities: 3-4 weeks
DURATION OF RESULTS
Permanent reduction depends on the skin elasticity and quality.
SIDE EFFECTS
Temporary swelling, mild bruising and some pain.

Ideal Candidates for Breast Reduction
Ideal candidates for breast reduction surgery are patients who are within their ideal body weight with excessively large breasts, often demonstrating a premature "droop" to the breasts as well. The specific techniques are individualized depending on the size and shape of your breasts as well as your particular aesthetic desires.
All of our breast reduction patients need to be in good health and must not smoke. This cannot be emphasized enough, as regular use of cigarette smoke has been well documented to have a higher occurrence of healing problems, poor scarring as well as more frequent infections. Any patient who is a smoker must have quit at least six weeks prior to surgery.
Breast Reduction Video
Breast Reduction Procedure Types
Breast reduction can be accomplished with liposuction alone in the appropriately selected candidate. Often, younger women who are looking to reduce the size of their breasts one to two cup sizes are the appropriate patients. The key to a successful surgery is a patient who has a relatively good position of the nipple combined with youthful skin that is elastic and will "tighten" after the removal of the excess breast tissue. The scars are very small and easily concealed. You should be back to normal activities and work in less than a week. Your breasts will remain swollen anywhere from two to six weeks with variable degrees of swelling. Final results are seen by three months.

Vertical "Lollipop" Reduction

The "lollipop" reduction limits the scarring that it is placed on the breasts. Aside from the fact that it is useful to patients who may not have a skin that does not contract, it also allows Dr. Marin to remove excess breast tissue and skin. However, even though Dr. Marin always wants to use this approach when possible, some breasts require a more extensive technique.

It has a longer recovery period than liposuction, but patients can return to work anytime from one to three weeks. It is directly dependent on how large the breasts are and the extent of the surgery. Moreover, the amount of exercise for the patients is limited for about six weeks since scars must heal before subjecting to physical stress. The final results are not seen until one year after the surgery and will continue to improve for years to come.

Standard Breast Reduction

For most women considering a breast reduction procedure, they have large, heavy breasts with excess breast tissue in addition to breast skin. Thus, in order to achieve a more youthful size and shaped breast, Dr. Marin has to remove both skin and unwanted breast tissue. The standard breast reduction results in an "anchor" shaped scar and provides the greatest degree of flexibility in dealing with any breast size or shape. Larger breasted women usually have to undergo this technique secondary to the specific needs of their anatomy. Almost instantly, women have improvement in the weight of their breasts and find themselves able to physically do routine activities more easily, as well as find their clothes fitting better. Despite the slightly larger scar, the results are so dramatic that very few women ever think twice about their life-changing decision.
Breast Reduction Procedure
The surgery involves the removal of breast tissue as well as skin. The amount, however, is based upon Dr. Marin's exam and what both of you determined to be your specific goals. This can be accomplished through a number of surgical techniques and Dr. Marin will discuss these fully with you during the in-office consultation.
In general, the procedure lasts for about 2-4 hours where you will be put either under local or general anesthesia. Breast reduction is an outpatient procedure so you will be able to leave the facility once the surgery is done.
After Breast Reduction
Following your surgery, your chest area, especially your breasts will feel sore and tender. These will be relieved by pain medications that Dr. Marin will prescribe. Your chest area will be wrapped around surgical dressings, and drains may be placed in your breasts to get rid of excess fluid that may collect in the operated area.


OMG!! My boobs look absolutely unbelievable!!! I cant thank you enough for making this experience so wonderful. Your work is impeccable! From the first phone call, you and your staff have been so
Dr. Marin is a magician, I wake up happy every day now
Words fail to adequately convey how grateful and genuinely happy I am with your work. …and I couldn't have imagined it coming out any better. This has been the BEST pampering I have ever
Wow! Voila? Bingo! or "D" all of the above! Loving your work…. Thank you, thank you! You chose the perfect everything for me! Merry X-Mas and best for a great 2009
My surgeon Dr. Vincent Marin far exceeded my expectations. Three months ago I had breast augmentation and rhinoplasty performed on the same day and could not have asked for a better team of highly

Recovery and Scarring
Recovery from a breast reduction procedure is largely dependent upon the type of surgery that you undergo. Obviously, the less surgery you have, the quicker the recovery. For most breast reduction surgeries, the recovery is very well tolerated. The discomfort women experience is well controlled with pain medication, and frequently, women are able to stop taking prescription medication within a few days.
You will wake up with tapes along the incisions and in a postoperative surgical bra. The bra stays in place until you see me the next day in the office to ensure that you are healing properly. Over the next several weeks, we perform routine check-up visits with you and eventually change the tapes to keep the incisions protected and minimize and tension at the skin. All of the sutures dissolve, and there is no need for stitch removal, minimizing any discomfort you may experience.
Your breasts will begin to take shape and settle as the scars mature and slowly become less visible fading from a pink color to a thin white line over the course of a year. Many of Dr. Marin's patients become even more active after surgery noticing that the lack of the excess breast size and weight serves to make them able to pursue many of the activities they were unable or unwilling to undertake prior to surgery.
Your New Look After Breast Reduction
Your breast size will remain the same unless you gain or lose a significant amount of weight. Most women who undergo breast reduction feel amazing about the sizes of their new breasts. They find it easier to dress up, wearing more types of clothes than before. Back, shoulder and neck pain is also reduced because of the subtracted weight of the breasts. They also have better and healthier back posture, decreasing spine problems because of the new found balance with smaller breasts.
Request Your Consultation
To learn more, you can schedule an appointment online or you can call 858-638-9800
3:47 AM