Brighten the Eyes with Eyelid Surgery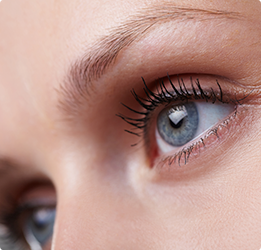 Eyelid lift surgery or blepharoplasty is designed to treat excess skin and bulging fat around aging eyes. These eyelid problems often arise as people age. Some women may notice such eyelid problems when they begin to have difficulty in applying makeup evenly on the upper eyelid. Some men may realize these signs when they start to notice excess skin on their eyelids – making them look as if they were tired despite having a full night's rest.
Eyelid surgery is one effective way to address these problems. Visit or contact our La Jolla, San Diego office to schedule an eyelid surgery consultation.
Ideal Candidates for Eyelid Surgery
As we age, our skin loses some of its elasticity or "spring". Aging combined with an acquired environmental or sun damage leads to the gradual development of redundant skin in both the upper and lower eyelids. The tissue that keeps the orbital fat in place, known as the septum, will also weaken with time.
Fortunately, if you're planning to address these problems, eyelid skin tends to heal better than almost anywhere on the body. This ability of the eyelid skin combined with placing incisions in natural skin folds makes a well-healed incision nearly barely visible to the naked eye.

The best candidates for an eyelid surgery should be in good health with no serious medical illness – especially eye conditions. The most qualified individuals for this procedure should have the following:
Baggy, droopy, or puffer eyes
Tired-looking eyes
Excess skin in the upper lid
WHAT TO EXPECT FOR YOUR
EYELID SURGERY
RISKS
Pain, bleeding, infection, incomplete improvement, nerve damage (rare)
FINAL APPEARANCE
6 months for swelling to resolve, 2-3 weeks for noticeable swelling to resolve
ANESTHESIA
General (occasionally local with IV sedation for smaller procedures)
RECOVERY
Back to work w/ makeup: 1-2 weeks
Strenuous activities: 3-4 weeks
DURATION OF RESULTS
About 5 – 10 years depending on which technique is used
SIDE EFFECTS
Temporary swelling, bruising, mild pain, mild nose bleeding

Benefits of Eyelid Surgery
Choosing to undergo eyelid surgery can bring you many benefits. Above all, it can get rid of the extra hood-like skin of your upper eyelids and the puffiness and bags of your lower eyelids. This will ultimately make you look refreshed, more youthful, and healthier. You may also relieve yourself from certain vision problems such as overhanging eyelids.
Undergoing Eyelid Surgery
Upper eyelid surgery alone can be frequently performed under local anesthetic without the need for IV sedation or a general anesthetic. Lower eyelid surgery is more commonly done under a light general anesthetic, as it is a procedure better tolerated when the patient is asleep.
The procedure is performed on an outpatient basis which can last for 1-2 hours. It involves the removal of excess skin and fat, and the tightening of the septum and muscles that have relaxed over time.
Incisions, as guided by the markings Dr. Marin placed prior, are carefully placed in natural creases so that well-healed scars can mimic the natural fold of the patient's skin. Lower eyelid incisions are placed immediately below the lash line so that the lower lashes can act to conceal any evidence of a scar.
Marin Aesthetics eyelid surgery patients are able to see immediately following the procedure aside from short-lived blurry vision caused by the protective ointment placed in the eyes.
In certain cases where the patient's primary issue is the bulging fat in the eyes alone, there is a procedure that can successfully address such without any scarring. Trans-conjunctival blepharoplasty removes excess fatty tissues in the lower lids through incisions carefully placed inside the eyelids.
Finally, the upper eyelid allows Dr. Marin to access the frown muscles known as the corrugators. Through a scar-less approach, he can weaken and remove overactive muscles that contribute to medial brow frown lines.
After Your Eyelid Surgery

After your surgery, your eyelids will feel puffy and numb. You may also tear excessively, feel sensitive to light, and have double vision after the surgery. You are also prone to swelling and bruising that may last for a week. Your incisions will be red and visible, but these are only temporary.


OMG!! My boobs look absolutely unbelievable!!! I cant thank you enough for making this experience so wonderful. Your work is impeccable! From the first phone call, you and your staff have been so
Dr. Marin is a magician, I wake up happy every day now
Words fail to adequately convey how grateful and genuinely happy I am with your work. …and I couldn't have imagined it coming out any better. This has been the BEST pampering I have ever
Wow! Voila? Bingo! or "D" all of the above! Loving your work…. Thank you, thank you! You chose the perfect everything for me! Merry X-Mas and best for a great 2009
My surgeon Dr. Vincent Marin far exceeded my expectations. Three months ago I had breast augmentation and rhinoplasty performed on the same day and could not have asked for a better team of highly

Recovery and Scarring
Recovery for eyelid surgery varies from one person to another, but in general, you may already return to work after 1-2 weeks. Recovery is relatively pain-free and easily managed with oral pain medication.
Sutures are normally removed after five to seven days, and lower eyelid sutures often dissolve on their own. There is some social downtime with this surgery as it can be difficult to hide this area with makeup or sunglasses. You need not to rest in bed all the time, but it is important to relax your eyes. Here are some tips to remember during your postoperative recovery time:
Treat your incisions with ointment Dr. Marin will provide to keep them lubricated.
Use lubricating eye drops and place a cold compress over the area for the first 72 hours. You may also be advised to use eye drops to keep your eyes from drying.
Your eyes may tire easily so be sure to take short naps every now and then. Avoid activities that may stress and dry your eyes such as reading, watching TV, or using a computer or laptop.
It is best to sleep with your head higher than your chest area. Keeping your head elevated can reduce the swelling and bruising.
Do not perform strenuous activities such as heavy lifting, swimming, jogging, and other forms of exercise for at least 2 weeks after your eyelid surgery. Specifically, do not move your head abruptly to avoid increasing the blood pressure in your head.
Wear dark sunglasses to protect your eyes from the sun and wind. This may also help in minimizing the scarring.
If you experience chest pain, bleeding, visual disturbance, unusual heart rate, and shortness of breath, it is important to contact a physician and seek medical attention.
Scarring after an eyelid surgery is discreet. For the upper eyelid surgery, the scars will be hidden along the natural creases of the skin. Patients can take steps to further reduce the appearance of scarring after eyelid surgery by strictly following postoperative instructions.
Your New Look After Eyelid Surgery
Within one to two weeks, patients may begin to notice a difference in their appearance – a brighter and more youthful look around the eyes. As the swelling settles down, the eyes take an even more refined appearance with the gradual recovery. The results of an eyelid surgery can last for many years – brightening the patients' appearance, and allowing their eyes to reflect their renewed self-confidence and youthful spirit.
Request Your Consultation
To learn more, you can schedule an appointment online or you can call 858-638-9800
9:22 AM