Restylane and Perlane Injections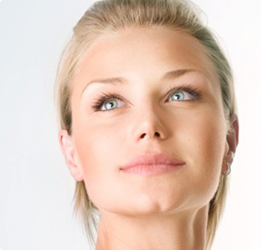 Restylane and Perlane are FDA approved, cross-linked, hyaluronic acid (HA) soft tissue fillers for the treatment of facial wrinkles and folds. Hyaluronic acid is a natural occurring substance that helps to provide the volume beneath your skin. HAs are placed underneath the wrinkle or fold that acts to supplement your existing HA that normally will deplete with age. These products act to smooth and soften facial lines and wrinkles, producing a more youthful and rejuvenated appearance in our San Diego patients. Schedule your Restylane or Perlane injection appointment with Dr. Marin to experience the anti-aging benefits of the products.
How Does Restylane/Perlane Work?
Restylane and Perlane are transparent gels that are injected into the deeper tissues of the face, directly beneath the skin. These products add immediate volume to the treatment area and each product will gradually absorb water increasing the overall volume. This does not cause your body to react and will be progressively absorbed over the course of the next six to nine months depending upon which product is used.
Restylane and Perlane Uses
Restylane was the first hyaluronic acid product introduced to the dermal filler market in 2003. Since that time it has become the "gold standard" to judge any new fillers emerging in the market. Restylane is designed to be a bit more "structural" and can build up the soft tissues better than many other hyaluronic acid fillers. Perlane was introduced several years later as a more substantially cross-linked product – meaning that it would provide an even longer lasting result.
The makers of the facial filler Restylane have also released a new product that contains the anesthetic lidocaine within the gel itself. This allows for a more pain-free experience for patients undergoing dermal fillers. As the Restylane is injected in the tissues, it simultaneously numbs the areas delivering to the patient a much more pleasurable experience.


OMG!! My boobs look absolutely unbelievable!!! I cant thank you enough for making this experience so wonderful. Your work is impeccable! From the first phone call, you and your staff have been so
Dr. Marin is a magician, I wake up happy every day now
Words fail to adequately convey how grateful and genuinely happy I am with your work. …and I couldn't have imagined it coming out any better. This has been the BEST pampering I have ever
Wow! Voila? Bingo! or "D" all of the above! Loving your work…. Thank you, thank you! You chose the perfect everything for me! Merry X-Mas and best for a great 2009
My surgeon Dr. Vincent Marin far exceeded my expectations. Three months ago I had breast augmentation and rhinoplasty performed on the same day and could not have asked for a better team of highly

Restylane and Perlane Recovery
Our patients tolerate Restylane and Perlane injections well and the recovery is quite mild. Patients will have some numbness in the treatment areas depending upon what type of anesthetic is used. We anticipate that there will be mild swelling and occasional bruising around the areas treated with the hyaluronic acid. Swelling and some firmness in the tissues will persist for 48 – 72 hours, but this will resolve. Most bruising is easily concealed with make-up and many patients have no bruising at all.
Restylane and Perlane Side Effects
Restylane and Perlane side effects are rare and the products are very well tolerated. When side effects occur, they are commonly redness and tenderness at the injection site, limited bruising, lumps or firmness in or around the treatment area. Nearly all of these are self-limiting and will improve with time. With hyaluronic acid fillers, there is a product that we can inject to make the product disappear within an hour if the results are not what you desire.
WHAT TO EXPECT FOR YOUR
RESTYLANE PERLANE
RISKS
Bruising, incomplete correction
FINAL APPEARANCE
2 – 3 days
ANESTHESIA
Local or topical anesthesia
RECOVERY
Back to work: immediate
More strenuous activity: 1 -2 days
DURATION OF RESULTS
6 months or longer depending upon which product is used
SIDE EFFECTS
Possible bruising

Request Your Consultation
To learn more, you can schedule an appointment online or you can call 858-638-9800
8:30 AM