We frequently hear the words "Retinol" and "Retinoids" interchangeably to describe these products, but it is essential to know that both chemicals are not the same. Think of these as being more related but distinctly different. Retinoids are essentially a catch-all basis term for both Retinols and prescription-strength Retinoids such as Retin-A.
Retinoids are composed of Vitamin A and other natural derivatives like retinoic acid. They are widely known to impact various cellular processes, including repair of photodamaged skin, preventing the build-up of dead cells, and promoting healthy skin cells' growth.
Retinoids are standard components of topical but powerful cream. It helps facilitate faster skin turnover, build underlying collagen, and improve the appearance of fine lines and wrinkles.
Two of the most common type of retinoids incorporated in these type of creams are:
Retinol – over-the-counter
Retin-A – prescription-strength retinoid
Retinols vs. Retin-A
Both Retinol and Retin-A are retinoids and are from Vitamin A that penetrates the deeper layers of the skin and ultimately gets converted into an active compound called retinoic acid. However, the conversion to retinoic acid occurs differently for each formulation and has a different overall effect on the skin. Here are a few of the differences between Retinol and Retin-A: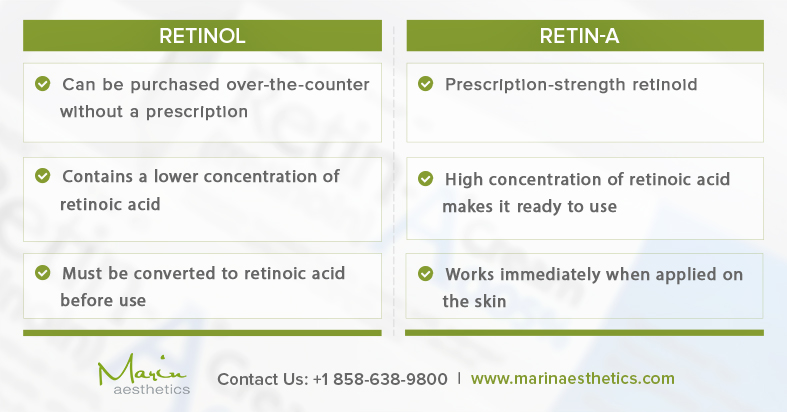 Also, Retinols work more gradually than Retin-A due to their different molecular structure and how they are metabolized underneath the skin. Over-the-counter Retinols need additional steps to be converted to retinoic acid. The more conversions needed, the weaker the end product is; retinol is often weaker than Retin-A. Over-the-counter Retinols are also combined with other components such as moisturizing ingredients to minimize dryness or irritation and antioxidants, or additives, to brighten the skin. These make them more tolerable and a better starting product for most individuals.
How to use/apply Retinol and Retin-A
For both Retinol and Retin-A, it is recommended to use them in your nighttime routine, as sunlight deactivates retinoic acid. Apply these products to clean, dry skin after a nightly cleanser.
For the first-time users, keep in mind the following before using these retinoids:
Retin-A and Retinols can cause a process called 'Retinization' at the start of treatment. This process leads to redness and dryness of the skin. It will frequently cause patients to stop using the product as they cannot tolerate these side effects.
Slowly ease into using Retin-A – usually by starting with a Retinol. A small percentage of patients are overly sensitive and sometimes are never able to tolerate Retin-A.
It is recommended to start by applying Retin-A every other night to avoid retinization

,

Apply a pea-sized amount of Retin-A first. Wait a few minutes, and then use a moisturizer to combat any dryness or flaking.
Patients who are pregnant or breastfeeding should avoid using Retinol and Retin-A altogether.
If you have more sensitive or dry skin, it is recommended to start with an over-the-counter Retinol or similar products, which is gentler than other prescription-strength retinoids. If you have oily skin or have tried retinoids in the past, then prescription-strength retinoids such as Tretinoin, Retin-A, Retin-A micro, or even Tazorac are recommended. These are milder and formulated to be better tolerated by sensitive skin. For more best skin care treatment products, visit this page.
Reminder
Keep in mind that products may deactivate certain types of retinoids (i.e., Benzoyl Peroxide and Alpha Hydroxy Acids), so it is essential to be careful with layering these products. Make sure to be aware of the specific interactions before embarking on a retinoid regimen for your skin.
*The content in this blog is developed to spread the awareness towards plastic surgery. Our blog is not intended to serve as a replacement for an actual in-office consultation with Dr. Marin. As such, the information within this blog reflects the unique cases of our individual patients.