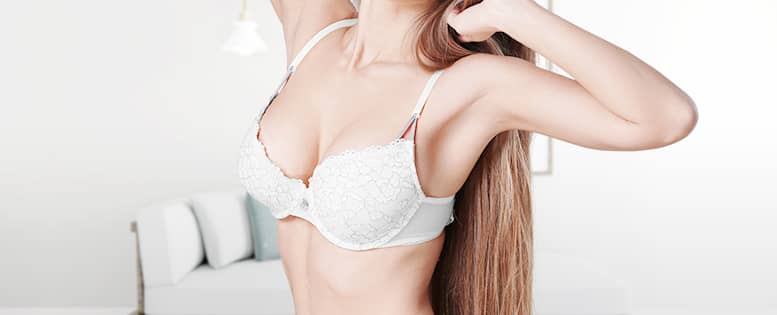 Women who undergo breast enhancement surgery with implants can require a future revision procedure. Distinct problems can arise from childbirth, weight loss or gain, or even an implant rupture. Some women may merely desire to change the size or profile of their implant itself.
Leading San Diego board-certified plastic surgeon, Dr. Vincent Marin welcomes hundreds of patients to his practice who wish to successfully correct implant-associated problems.
If you are interested in undergoing implant revision surgery in La Jolla, schedule your consultation with Dr. Marin now!
Cost & Financing
Breast implant revision surgery in San Diego ranges from $4,500 – $15,000 depending upon the extent of the revision needed. This is due to the scope of the revision needed, specific surgical techniques, and medical expenses such as anesthesia and operating room fees.
Marin Aesthetics accepts cash, bank checks, and all major credit cards. Insurance providers will only cover surgical costs if the procedure is deemed to be medically necessary.
Marin Aesthetics also offers medical financing in order to help our patients manage the anticipated surgical costs.
Reasons for Implant Revision Surgery
Change/Improve Implant Type and Size
Despite extensive consideration prior to the initial breast lift or augmentation surgery, some women still feel that their current implant size and shape is simply not right for them. Others may choose to change their implants from saline to a softer, more natural silicone option.
Our surgeon can easily correct this by replacing the implant to your desired shape, size, and type.
Implant Malposition
While implants are designed to stay in a position beneath the breast and centered on the nipples, implants can migrate towards other areas of the breast for a number of different reasons. Implants can "bottom out" and fall below the breast crease. Additionally, too much skin elasticity can result in excessive stretching that causes the implant to appear misplaced due to excess skin accommodation.
During surgery, Dr. Marin corrects these issues by tightening sections of the breast skin or capsule that may appear too loose or too large before replacing and repositioning the implants.
Capsular Contracture
Capsular contracture occurs when scar tissue forms a capsule around the implant, leaving many women to experience a change in the shape and position of the implant that can eventually progress to pain and discomfort in the breast or chest. During surgery, Dr. Marin removes the entire capsule and then replaces and possibly relocates the implant to prevent future contractures. Implant massage and displacement exercises can be helpful after surgery.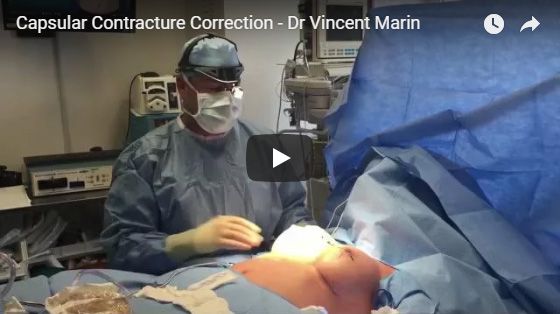 Implant Rupture
Breast implants are medical devices that are vulnerable to physical stress and wear, which can lead to implant rupture or displacement. Ruptures are highly dependent on the type of implant used in the initial procedure:
Saline Implant Rupture: Typically empties within days after rupture, when the saline (saltwater) is absorbed by the body. This is often described as a "flat tire."
Silicone Implant Rupture: The rupture remains largely confined within the breast capsule, so the external appearance of your breast may or may not look different. Frequently, a silicone rupture is termed a "silent rupture," since it is almost impossible to diagnose without further imaging.
Before & During the Revision Surgery
Anesthesia
Small capsule modifications or correction of an implant rupture may be performed under local anesthesia. However, Dr. Marin highly recommends performing these surgeries with general anesthesia instead, especially for a capsular contracture correction or more involved revisions as unexpected complications may arise during revision surgery.
Our Team
Dr. Marin's team will be supported by a Scripps Memorial La Jolla board-certified anesthesiologist, a highly trained and experienced scrub tech, and a registered nurse.
Surgery
Breast augmentation revision usually lasts between 1 – 4 hours. Any changes made to one breast will frequently require additional surgery on the unaffected breast to ensure the contour of both implants match. Drain tubes may be temporarily kept in place to prevent the build-up of blood and other fluids around the implant.
Revision surgery is an outpatient procedure and you can return home once cleared by Dr. Marin.
WHAT TO EXPECT FOR YOUR
BREAST IMPLANT REVISION
RISKS
Infection, asymmetry, implant failure, capsular contracture, incomplete correction
FINAL APPEARANCE
2 – 3 months for implants to completely descend into the final position
ANESTHESIA
General or local with sedation
RECOVERY
Back to work: 1- 2 week
Strenuous activities: 3 – 4 weeks
DURATION OF RESULTS
Results depend on skin elasticity and quality. Possible implant replacement only entails a minor procedure.
SIDE EFFECTS
Temporary swelling, bruising and mild pain

Recovery & Scars
Final results will settle after 2 – 3 months. Swelling and bruising are expected to manifest for the first 72 hours. Dr. Marin will prescribe medication to keep any pain and discomfort at a minimum. Showers can resume after 2 – 3 days, or upon Dr. Marin's recommendation following your first post-operative follow-up visit the following day.
It is important to be mindful of the instructions below to ensure you recover with minimal complications:
Limit the amount of raising and extending your arms for several days after surgery
Avoid taking a bath or submerging your breasts in water for 1 – 2 weeks
Avoid sleeping face down throughout the recovery period and instead, sleep with your head and back elevated
Maintain use of your surgical bra for 4 – 6 weeks
Normal activities such as driving, household chores, and light exercise may resume after 1 – 2weeks. You can also return to work within 1 week depending on the type of work. However, you can only perform heavy exercises and unrestricted strenuous daily activities such as grocery shopping and heavy lifting after 6 weeks.
While scarring will be noticeable for the first few weeks, it will improve and fade over time. Scars are not considered fully mature until 1 year from surgery.
Your New Look After Breast Implant Revision
Through breast implant revision surgery, women have the chance to attain satisfying improvements from their secondary augmentation procedure. The results are long-lasting with a healthy lifestyle and close attention to the postoperative instructions by Dr. Marin and his team.
If you are seeking to undergo revision breast implant surgery, schedule a consultation with leading San Diego plastic surgeon, Dr. Vincent Marin now!
Request Your Consultation
To learn more, you can schedule an appointment online or you can call 858-638-9800
*The images and content provided on this website are developed to educate the public on the procedures offered at Marin Aesthetics. Individual results vary per patient. To assess your candidacy per procedure, we strongly recommend scheduling a formal consultation with board-certified plastic surgeon, Dr. Vincent Marin.