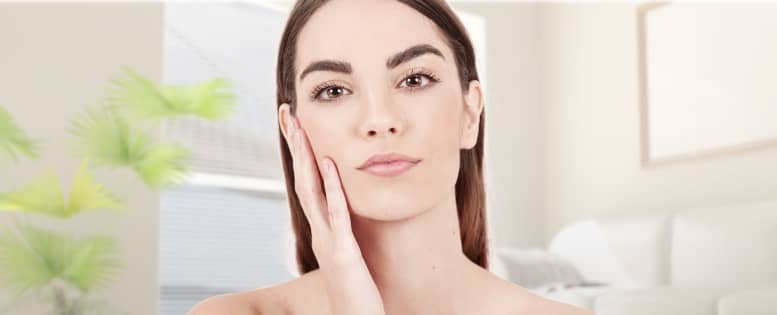 A facelift is a surgical procedure used to rejuvenate the face by removing excess skin and tightening the deep muscle layer of the face. A facelift will correct visible signs of aging such as prominent smile lines, cheek hollowing, and excess skin in the jowl and neck.
Dr. Vincent Marin is an experienced board-certified plastic surgeon practicing in La Jolla, San Diego with over 20 years of facial surgery experience.
Cost & Financing
A facelift in La Jolla and San Diego usually costs $6,500 – $12,500, but there are certain factors that may change the final price such as medical and operating room fees, and the extent of the surgery.
Facelift procedures are considered elective or cosmetic surgeries, so the cost will not be covered by insurance providers. We instead offer various financial plans tailored for each patient. We accept cash, credit cards, personal checks, and several financing options.
Types
Standard Facelift
A standard or full facelift targets moderate to severe skin laxity on the face and neck.
Dr. Marin will conceal incisions along natural creases such as the anterior hairline and along the natural curves of the ear. Then, your skin is elevated off the underlying muscle layer which is also lifted and tightened to improve the shape and contours of the face and neck.
The facial skin is re-draped in a more youthful position and the excess removed. The amount of skin to be excised depends on your overall skin laxity. The recovery time is somewhat more extensive in exchange for a more dramatic final result.
Mini or Petit Facelift
Mild to moderate sagging can be treated with a mini or petite facelift. This involves shorter incisions along the edges of the hairline and with a more limited extension behind the ear.
The face and jowls will be lifted and any excess skin removed, but the neck will be unaffected. This is often employed for younger patients or those who have aging changes limited to the face.
Deep Plane or SMAS Facelift
This technique is frequently employed by Dr. Marin and allows him to reposition and tighten the underlying muscles of the face and neck in addition to lifting and removing excess skin. You may also opt to have simultaneous laser resurfacing or fat transfer performed for a fuller, younger look.
This is a more long-lasting approach, and it helps improve scars and ease the tension on the skin resulting in more complete age correction with improved scarring.
Before & During the Surgery
Anesthesia
The procedure is often performed under general anesthesia. You may choose to use local anesthesia with sedation if you are undergoing a mini facelift procedure. A board-certified anesthesiologist from Scripps-Memorial will be in the operating room through the entire procedure to administer your anesthesia.
Your Team
Dr. Marin will be leading the operation. Assisting him is a team composed of an anesthesiologist, a highly experienced Scrub Tech, and a fully-licensed Registered Nurse.
Surgery Time
Since a facelift surgery is a meticulous operation and requires attention to every detail, the procedure typically takes 3 – 5 hours to complete depending on the specifics of the procedures performed.
WHAT TO EXPECT FOR YOUR
FACELIFT SURGERY
RISKS
Pain, bleeding, infection, incomplete improvement, nerve damage (rare)
FINAL APPEARANCE
3 – 6 months
ANESTHESIA
General anesthesia (occasionally local with IV sedation)
RECOVERY
Back to work with makeup: 1 – 2 weeks
More strenuous activity: 3 – 4 weeks
DURATION OF RESULTS
More than a decade
IN/OUTPATIENT
Outpatient (occasionally overnight depending on the extent and your health)
SIDE EFFECTS
Temporary swelling, bruising and some pain

Recovery & Scars
After the procedure, you may wake up with a light compressive dressing that covers the incisions from the surgery. Small drains are also temporarily placed to remove excess fluid. The recovery is surprisingly pain-free, and you may return home under supervised care, with a scheduled follow-up visit with Dr. Marin the day after surgery.
You may experience numbness in the treated areas rather than pain. This is temporary and will resolve with time. Mild bruising and swelling are also relatively common and expected, but will resolve over the first 7 – 10 days. You may be able to return to work and your normal daily activities after 1 – 2 weeks. Patients will continue to see improvements in their appearance over the course of 4 – 12 weeks.
Here are some tips for a more steady recovery:
Ensure that you plan for appropriate downtime to allow sufficient time to recover
Get plenty of rest and eat a balanced, low-salt diet.
For the first two weeks, sleep with your head elevated with several pillows.
Do not perform any strenuous or head down activities for the first 3 – 4 weeks, so as to limit unwanted additional swelling.
Do not take any medication unless prescribed or approved by Dr. Marin or his staff.
Do not apply makeup for two weeks.
Keep your face away from the sunlight. Exposure to direct sunlight may worsen the scarring that the surgery leaves.
Usually, final results are evident in three months and subtle refinements continue up to six months after surgery. You can use concealing make-up to cover your scars within seven days. Most scars are barely noticeable in eight weeks, but traditional teaching is that scars are not fully mature until one year after the surgery.
Testimonial
"After researching consulting many doctors in three different states I opted to go with Dr Marin because he was the only doctor that not only offered his professional opinions but truly considered my personal concerns expectations He knows what hes doing he truly cares about his patients I..."
"I cant say enough amazing things about Dr Marin and his incredible staff I had a consultation at a different place a year prior and thought it went well until I met Dr Marin and was completely blown away They care so much and I felt so comfortable and confident There is no other place I will e..."
"I could not be more pleased with not only my results but Dr Marin and his whole staff My overall experience has been amazing I would do it all over again My only regret is not having had the courage to do it sooner I spent a year pondering on whether or not plastic surgery was for me A whole y..."
"Doctor Marin and his staff have been outstanding They have been excellent throughout my initial consultation surgery and post op I can not express how grateful I am to Dr Marin His surgical skills have changed my life Im 2 weeks post op already my results are incredible I had severe deformit..."
"Dr Marin and his staff were absolutely amazing A lot to be said about a doctor and staff that take the extra time to make you feel like more than just a number Dr Marin himself is a very well educated man that is an expert in every service he has to offer It is very evident that he does not cut..."
Your New Look After Facelift
A facelift is one of the best plastic surgery procedures that can restore, enhance, and rejuvenate the features of the face. A well-performed procedure can reverse any signs of aging and give you a more attractive, firmer, and smoother facial contour. The results last for more than a decade.
Request Your Consultation
To learn more, you can schedule an appointment online or you can call 858-638-9800
*The images and content provided on this website are developed to educate the public on the procedures offered at Marin Aesthetics. Individual results vary per patient. To assess your candidacy per procedure, we strongly recommend scheduling a formal consultation with board-certified plastic surgeon, Dr. Vincent Marin.