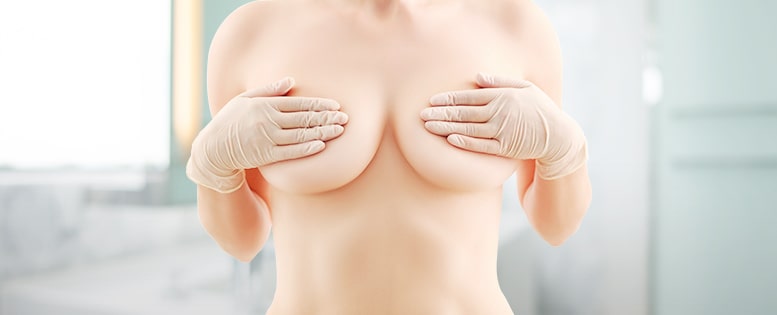 Breast augmentation is a cosmetic surgery designed to enhance the size and shape of a woman's breasts through the placement of implants, namely silicone gel, saline, or a highly cohesive silicone, commonly called "gummy bear implants." These implants can be placed either beneath the breast tissue (sub-glandular) or the chest muscle (sub-muscular).
Every year, hundreds of patients from across Southern California and the United States visit Dr. Marin at his La Jolla practice to seek his breast surgery expertise. Dr. Vincent Marin has performed over 1000 successful surgeries from the routine to the most complex revision cases or significant asymmetry throughout his career.
Cost & Financing
The cost of breast augmentation in San Diego can range from $6,900 – $7,900 depending on factors such as the type of breast implant, the extent of the procedure, and the type of anesthesia. Breast augmentation surgery is often combined with other procedures like liposuction, tummy tuck, and mommy makeover, which will affect the final cost quoted. Be aware that insurance companies remain firm on non-coverage for most cosmetic procedures.
We accept cash, personal checks, and all major credit cards. We also offer medical financing through different providers to increase financial flexibility and meet our patients' needs.
What to Know About Breast Implants
All implants are FDA-approved medical devices filled with either silicone or saline. They share the same outer "shell" made of a solid silicone elastomer that has been proven safe when it comes in contact with the body. This outer "shell" can be either smooth or textured, and the implant can be either round or shaped.
Types

Silicone Implant
Silicone implants are manufactured pre-filled and are available in three different versions of cohesivity: responsive silicone, "Soft Touch," and highly cohesive "gummy bear" implants.
Responsive Implants

Traditional silicone implants are softer, more natural, behave more like a natural breast, and have less rippling than their saline counterparts.
These implants are very successful at producing a natural result due to the silicone atoms' internal shift with gravity. This movement reduces the upper pole of the breast and a fuller lower pole creating a "teardrop" result when the patient is standing.
These implants are excellent choices for patients who possess enough native breast tissue to camouflage the implant. This is the most frequent choice of implant in our practice.

Soft Touch Implants

The "Soft Touch" silicone implant is slightly firmer and more cohesive than the traditional silicone but, as a result, has less of a chance for visible rippling.
This implant is often an excellent choice for thin women at risk for rippling but still want a more natural result.
We see the use of this implant growing rapidly in our patients as it serves the dual purpose of reducing implant visibility but maintaining a "natural" appearance.

Cohesive "Gummy Bear" Implants

Often referred to as the "gummy bear" for its ability to hold its form even when cutting in half.
This implant type is the most cohesive among the available choices today. It comes in both a round and anatomic or "teardrop" shape and is shown to maintain its upper pole volume more consistently compared to other FDA approved implants on the market.
This implant will most reliably produce upper pole fullness against gravity and has the least incidence of rippling of an implant. As in most cases, the gummy bear implant is placed through a relatively small incision (1.5 inches) around the areola or hidden in the breast crease.
Saline Implant
Saline breast implants are considered the most flexible regarding volume control. They are inserted into the breast pocket deflated through a small incision of about an inch. Once in place, the implants are filled through a small tube with sterile salt water. This implant can be helpful for patients with significant pre-existing asymmetry.
One of the drawbacks is that it tends to produce a "more augmented" and firmer result as saline implants tend to push against the breast tissue more aggressively than silicone. Saline implants have the disadvantage of being the device with the highest chance for visible or palpable rippling.
Shapes
Round
According to the American Society of Plastic Surgeons, this shape is the most common in the United States and our patients at Marin Aesthetics.
Round implants are available in five different profiles, ranging from low to ultra-high projection that can accommodate various aesthetic preferences and specific anatomic needs. Patients can choose from a range of options, from a natural "teardrop" shape to a more round augmented look.
Fullness, particularly in the breast's upper part, can be easily adjusted depending on the specific profile chosen.
Teardrop / Anatomic
This shape is popular among patients who want a natural look after surgery or specifically for patients with a "constricted" breast deformity.
The teardrop shape concentrates the breast's fullness towards the implant's bottom, which keeps the change subtle in the upper pole and more significant inferiorly. This shape is particularly well suited for patients who lack lower breast volume, such as patients suffering from a tuberous breast deformity.
All anatomically shaped implants are textured devices to prevent rotation or malposition.
Texture
Smooth
Smooth devices move more freely in a woman's body and create a more natural appearance and feel. Saline and silicone breast implants are both available in the smooth shell variety.
The most common combination in the US for both saline and silicone implants are smooth implants with a round shape. These are the safest devices available on the market today, and there have been no known associations with BIA-ALCL (Breast Implant-Associated Anaplastic Large Cell Lymphoma) and patients who have only had smooth implants in their past.
Textured
Textured devices are preferred when there are significant issues with the shape of a woman's chest wall. Tissue in-growth surrounds the implant and helps to secure it in place, resulting in a Velcro-effect
that prevents unwanted migration to other parts of the breast or chest.
Saline and silicone implants are both available in textured varieties. All anatomic implants are textured. Some textured devices have been associated with BIA-ALCL.
Profiles
To accommodate each woman's aesthetic desires in combination with their specific anatomic needs, Dr. Marin is more than happy to walk patients through their options to the different implant profiles – distinguished by their varying widths and projections – and help them choose which implants will give them the best overall outcome.
Low Profile is the least projecting of all the implant profiles.
Low Profile Plus is slightly more projecting, creating a subtle but noticeable change.
Moderate Profile is one of the most frequently chosen implant styles and is routinely the most effective implant to create a "teardrop" shape.
High Profile creates a more noticeable upper pole projection making the breast fuller and more "augmented" with a narrower base allowing for a larger volume in a smaller space.
Ultra-High Profile is the implant with the most dramatic projection allowing for the most "augmented" appearing results. This implant style allows for the most volume in an individual patient and is best chosen for patients who want a very noticeable result.

Submuscular vs. Subglandular Placement
Submuscular
The saline or silicone implant is placed directly behind the chest muscle wall, supporting fascia or connective tissue. This approach's benefits are the reduced risk of implant visibility, decreased incidence of capsular contracture (scar tissue contraction around the implant shell), and less visible rippling. The downside includes a slightly longer recovery period, increased discomfort in the early postoperative period, and increased swelling.
Subglandular
This placement technique inserts the implant behind the breast tissue but in front of the chest or pectoralis muscle. Among implant placement options, this is the least complicated approach and leads to a quicker recovery. But, this also increases the risk for capsular contracture, greater implant visibility, and visible rippling.
Testimonial
"After researching consulting many doctors in three different states I opted to go with Dr Marin because he was the only doctor that not only offered his professional opinions but truly considered my personal concerns expectations He knows what hes doing he truly cares about his patients I..."
"I cant say enough amazing things about Dr Marin and his incredible staff I had a consultation at a different place a year prior and thought it went well until I met Dr Marin and was completely blown away They care so much and I felt so comfortable and confident There is no other place I will e..."
"I could not be more pleased with not only my results but Dr Marin and his whole staff My overall experience has been amazing I would do it all over again My only regret is not having had the courage to do it sooner I spent a year pondering on whether or not plastic surgery was for me A whole y..."
"Doctor Marin and his staff have been outstanding They have been excellent throughout my initial consultation surgery and post op I can not express how grateful I am to Dr Marin His surgical skills have changed my life Im 2 weeks post op already my results are incredible I had severe deformit..."
"Dr Marin and his staff were absolutely amazing A lot to be said about a doctor and staff that take the extra time to make you feel like more than just a number Dr Marin himself is a very well educated man that is an expert in every service he has to offer It is very evident that he does not cut..."
Breast Augmentation Incision Types
One of the more important parts of breast implant surgery involves the type of incision Dr. Marin and his patient decide to use. At Marin Aesthetics, we utilize three preferred incision types that yield the best results:
Areolar
When a patient chooses an areolar technique, Dr. Marin makes an incision along the areola's inferior edge (the pigmented part around the nipple). He separates the tissue through this approach and creates a submuscular or sub-glandular pocket into which the implant is placed.
This incision is considered the most discreet, with the resulting scar blending in between the areola's darker skin and the breast's lighter skin. It is also the ideal incision type for patients who want to combine the procedure with a breast lift.
A couple of downsides to consider: there is a slightly increased risk for capsular contracture with this approach. A smaller diameter areola may limit the procedure or implant volume due to a lack of visualization for the surgeon.
Inframammary
Inframammary incision is considered the most popular approach and is made at the breast crease, where the lower breast meets the chest wall.
Compared to other incision options, it provides the most direct route to place the implant. The easier the implant can be placed in both breasts, the shorter the surgery and recovery time. Additionally, there is less risk of developing a capsular contracture versus the periareolar or transaxillary routes.
This approach has been proven to have the lowest incidence of capsular contracture formation compared to any other incision because it allows Dr. Marin to entirely avoid dividing the breast ducts located immediately beneath the areolar area.
The main disadvantage, though, is the scar is in an area that may be seen in a bikini or bra if the patient raises their arms above their heads or when they lie down.
Dr. Marin creates a pathway from the armpit to the implant pocket by first making a small incision (2 – 3 cm) in the armpit's natural fold. The implant is then guided through the incision and into the pocket either with the aid of an endoscope (small camera mounted on a surgical instrument) or without ("blind"). Its main advantage is the small scar size that is located entirely off of the breast itself.
However, because the transaxillary incision can't be reused for a follow-up procedure, a second incision must be made if breast implant revision is needed. Like the areolar approach, this incision is only feasible for silicone and saline implants of a certain size. This approach may be visible in a bikini, tank-top, or sundress if the arms are raised.
Before & During the Surgery
Anesthesia
It is performed under general anesthesia to maximize a patient's comfort and facilitate the surgical release of the pectoralis/chest muscle.
Your Team
While you are in surgery, your anesthesia will be provided by one of the Scripps Memorial La Jolla Board-Certified Anesthesiologists, a licensed RN who will serve as the circulating nurse during the procedure, and a Scrub Tech will assist Dr. Marin throughout the surgery.
Surgery Time
Routinely lasts between 45 minutes to an hour and a half, depending on the procedure's complexity. Dr. Marin will remain operating until he feels the procedure has produced your desired outcome.
Follow these important instructions to learn how to prepare for your breast augmentation surgery.
WHAT TO EXPECT FOR YOUR
BREAST AUGMENTATION
LENGTH
45 minutes – 1 1/2 hour
RISKS
Pain, bleeding, infection, asymmetry, implant failure, capsular contracture
FINAL APPEARANCE
3 – 6 months to see their "final" result
RECOVERY
Back to work: after 1 week
Strenuous activities: 3 – 6 weeks
DURATION OF RESULTS
Breast implants are warrantied for life. Replacement only entails a minor procedure.
SIDE EFFECTS
Temporary swelling, bruising, mild pain

Recovery & Scars
The surgery is typically an outpatient procedure, with most patients going home within 1 hour following the operation. Before discharge, Dr. Marin will evaluate the patient in the recovery room before she is sent home to ensure a successful and uneventful recovery.
Breast augmentation patients are recommended not to shower within the first 24-hours after surgery. After that time, they must follow Dr. Marin's instructions in keeping their scars clean & dry by:
Using unscented, antibacterial soap
Avoiding rubbing the area vigorously.
Avoiding products with hydrogen peroxide or alcohol
Drying the area by patting it gently and limiting manipulation of the surgical dressing
Dr. Marin also typically provides a surgical bra, which should be worn for 23 hours a day and removed only when you shower or wash it (frequently, these can be combined). Patients are required to wear the bra for approximately six weeks, depending on how well they are healing.
Adjustments may be made to this schedule depending upon the specifics of your procedure. Patients can expect to start driving 5 – 7 days after surgery, once they are off prescription medication and should be back at work after one week. More strenuous activities, such as exercising, grocery shopping, etc., can be gradually resumed in 3 – 6 weeks.

Two to three weeks after surgery, patients may be advised by Dr. Marin in a follow-up appointment to begin their scar reduction routine. The process involves the:
Daily application scar reduction ointments and creams
Daily application of silicone sheeting
Avoiding direct sunlight
The liberal application of sunscreen when in the sun or wearing a bikini.
All sutures are dissolvable and postoperative pain is controlled with prescription pain medication. Once your swelling goes down, pain and redness fade, your new breasts' final look should be apparent in as little as 6 weeks – 3 months.

Ideal Candidates
Review the following criteria to find out if you're an ideal candidate for breast augmentation:
Are physically healthy and not pregnant or actively breastfeeding
Have realistic expectations
Dissatisfied with your current breast size
Dissatisfied with your breasts losing shape and volume after pregnancy, weight loss, or with aging
Are unhappy with the upper part of your breast appearing "empty."
Have one or both breasts that failed to develop normally or have an elongated or constricted shape
Your New Look after Breast Augmentation
The further along you are in your recovery; the more natural and soft your breasts will appear. Typically, it takes between 3 – 6 months for women with implants to see their "final" result. Call our San Diego office to schedule an in-person consultation with Dr. Marin to determine if you are an ideal candidate for the procedure.
Request Your Consultation
To learn more, you can schedule an appointment online, or you can call 858-638-9800
*The images and content provided on this website are developed to educate the public on the procedures offered at Marin Aesthetics. Individual results vary per patient. To assess your candidacy per procedure, we strongly recommend scheduling a formal consultation with board-certified plastic surgeon, Dr. Vincent Marin.