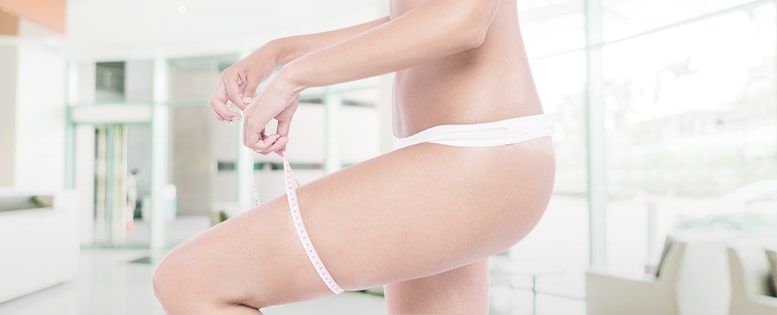 Thigh Lift is a body contouring procedure that removes excess fat, and lifts and tightens loose, sagging skin in the thighs for improved lower body shape.
With almost two decades of experience as one of the leading board-certified plastic surgeons in San Diego, CA, Dr. Vincent Marin annually performs dozens of thigh lift surgeries to an international clientele of patients.
Cost & Financing
The price for thigh lift surgery in La Jolla and San Diego typically ranges from $6,500 – $12,000. The surgical costs will cover all of the medical expenses, including – but not limited to – the size of the treatment area, anesthesia fees, and the location of the surgery.
We accept all major credit cards, cash, and personal checks. You may also check our financing options that can assist your needs.
Thigh Lift Techniques
A thigh lift is best suited for patients who have experienced significant weight loss and are near their ideal Body Mass Index (BMI) for their particular height and weight.
Liposuction is used to remove excess fatty tissues from the thighs that are often resistant to regular diet and exercise, and loose skin is then lifted and surgically excised to tighten the skin in the area using the following techniques:
Medial Thigh Lift
An incision is made between the inner thigh and pubic region. The technique leaves a limited and concealable scar that is easily hidden beneath a swimsuit or underwear.
This technique is suited to patients that have their skin laxity limited to the upper inner thigh.
Butt Tuck
This technique is designed to improve the transition from the lower end of the buttock to the posterior thigh. The excess skin, often called a "banana roll," is directly removed to help create a distinct and crisp transition from the lower buttock to the thigh. The scar is placed within the natural crease of the gluteal fold and well hidden in most clothing.
Extended Medial Thigh Lift
An incision in the groin that extends along the inner aspect of the leg down to the mid-thigh or the knee, if needed. This technique is particularly well suited to massive weight loss patients who have significant excess skin in the lower leg.
Additional procedures can be combined, such as the Brazilian Butt Lift and Mommy Makeover. Final results enhance the contours of the thighs for a lifted and flattering appearance.
How is the Procedure Performed?
During your initial consultation, Dr. Marin will assess the skin tone, fat, muscle position, and other relevant anatomy in the thighs. Together with your specific goals for the surgery, he will determine which technique is best to give you optimal and natural-looking results.
Before the procedure, Dr. Marin will place incision marks along your groin, buttocks, and/or thighs. A Scripps Memorial La Jolla Board-Certified Anesthesiologist will administer the anesthesia. Once sedated, Dr. Marin will complete the surgery with a Registered Nurse and an experienced Scrub Tech.
WHAT TO EXPECT FOR YOUR
THIGH LIFT (THIGHPLASTY)
RISKS
Scarring, swelling, bleeding, pain, infection, blood clots, poor wound healing
FINAL APPEARANCE
2 – 3 months
ANESTHESIA
General anesthesia
DURATION OF RESULTS
Permanent
IN/OUTPATIENT
Inpatient or outpatient with supervised recovery
SIDE EFFECTS
Pain, swelling, bruising, scarring

Recovery & Scars
We recommend the use of a compressive garment for 4 – 6 weeks after surgery. This can help limit your swelling and facilitate more rapid recovery and can also reduce the irritation of the incisions in the thighs and buttock area.
Drains and small tubes that can help remove excess fluid are also used. These are emptied every day and typically removed by the end of the first week. The drains can also help in reducing the swelling and speeding up your recovery.
It is essential to follow all of the postoperative care instructions given by Dr. Marin. Strictly adhering to such will make your recovery complications-free. By doing so, you will improve your progress towards your final and new look. Some essential tips are listed below:
Limited walking is encouraged during the first 48 hours to lessen the swelling
Showering using mild soap is permitted 1 – 2 days after the procedure
Only engage in light activities for the first 2 weeks of your surgery
Exercise should not be resumed for 4 – 6 weeks after the surgery
Be careful and minimize your movements to reduce the stress put in the operated areas
Avoid climbing stairs and other activities that may produce tension across your wounds
You should also be mindful of any scheduled appointments between you and Dr. Marin. Follow-up meetings will help assess your improvement in the recovery period and the healing of your scars. This may also help in averting any possible complications and will allow you an opportunity to ask any questions you may have regarding the recovery.
Testimonial
"After researching consulting many doctors in three different states I opted to go with Dr Marin because he was the only doctor that not only offered his professional opinions but truly considered my personal concerns expectations He knows what hes doing he truly cares about his patients I..."
"I cant say enough amazing things about Dr Marin and his incredible staff I had a consultation at a different place a year prior and thought it went well until I met Dr Marin and was completely blown away They care so much and I felt so comfortable and confident There is no other place I will e..."
"I could not be more pleased with not only my results but Dr Marin and his whole staff My overall experience has been amazing I would do it all over again My only regret is not having had the courage to do it sooner I spent a year pondering on whether or not plastic surgery was for me A whole y..."
"Doctor Marin and his staff have been outstanding They have been excellent throughout my initial consultation surgery and post op I can not express how grateful I am to Dr Marin His surgical skills have changed my life Im 2 weeks post op already my results are incredible I had severe deformit..."
"Dr Marin and his staff were absolutely amazing A lot to be said about a doctor and staff that take the extra time to make you feel like more than just a number Dr Marin himself is a very well educated man that is an expert in every service he has to offer It is very evident that he does not cut..."
Your New Look After Thigh Lift
Most of our patients who had thigh lift surgery will notice an immediate improvement in the shape and contour of their legs and thighs at their first postoperative visit.
Just like any surgery, swelling will persist for 6 – 8 weeks depending upon the procedure and individual patient. The results of the surgery are long-lasting if a stable weight and a healthy lifestyle are maintained.
If you feel like you may need a thigh lift, contact us, and set up a consultation with Dr. Vincent Marin to know your options.
Request Your Consultation
To learn more, you can schedule an appointment online or you can call 858-638-9800
Body Lift
Remove Loose Skin with Body Lift Surgery Our San Diego body lift patients who have lost a significant amount of weight from diet and exercise or...
Read More
Arm Lift (Brachioplasty)
Arm Lift (Brachioplasty) is a surgical body contouring procedure that removes excess fat and skin from the upper arms. Dr. Vincent Marin of Marin Aesthetics is...
Read More
*The images and content provided on this website are developed to educate the public on the procedures offered at Marin Aesthetics. Individual results vary per patient. To assess your candidacy per procedure, we strongly recommend scheduling a formal consultation with board-certified plastic surgeon, Dr. Vincent Marin.