Labiaplasty is a surgical procedure designed to change the size and shape of a woman's labia majora and minora. Many women who choose to undergo this procedure experience pain during intercourse, notice unwanted changes to the labia after pregnancy and childbirth, suffer discomfort with tight-fitting clothes, or feel that they have a larger than desired labia.
Dr. Vincent Marin is a board-certified plastic surgeon with over 10 years of surgical experience who is an expert in creating satisfying and natural-looking results for women seeking to correct chronic irritation or desire a more youthful look to their vagina.
Cost & Financing
Labiaplasty in La Jolla and San Diego costs anywhere from $3,500 – $10,000. The final price will depend on the specific procedure performed and miscellaneous medical expenses that include anesthesia and OR (operating room) fees. Our practice accepts all major credit cards, cash, and personal checks. We also offer financial assistance to help manage the surgical costs for our patients.
Unfortunately, most insurance carriers do not cover costs since labiaplasty is typically considered a cosmetic procedure. The surgery might receive coverage in the event it is determined to be medically necessary.
Please contact us today for a personal consultation and a complete treatment plan that's right for you.
Labiaplasty Techniques
Trim Method
Removes excess tissue from an enlarged labia to ensure the inner folds are even or slightly receded. The trimmed labial edge is often darker in color and its removal is one of the major reasons women decide to undergo surgery. Final results yield a slightly visible, yet small scar along with the incision site.
Wedge Method
The outer edges of labial tissue are removed to create a tighter, more natural appearance. This method is usually employed to address vertical symmetry issues but is not as effective at removing darkened labial tissue. The resulting scars are easily concealed beneath the labial edge.
Both of these methods may leave behind a prominent clitoral hood, which can be solved with the addition of a clitoral hood reduction. You may choose to undergo this at the same time as labiaplasty or after you have healed from your first surgical procedure.
Labia Majora Rejuvenation
Labia Majora Reduction
This procedure reduces excess labia majora through the excision of excess or redundant tissue. The skin is surgically removed with the goal of hiding the scar in the sulcus between the minora and majora. This can be performed in conjunction with a labia minora surgery.
Labia Majora Augmentation
For women who have tissue or volume loss to the labia majora after pregnancy or as a consequence of the normal aging process, fat can be transferred to augment the volume of the labia majora. This can also be combined with a labia minora reduction. There are no visible scars to this procedure.
Before & During the Labiaplasty Surgery
Anesthesia
A labiaplasty procedure can be performed under local anesthesia with mild sedation or general anesthesia. Numbing and antibiotic creams are applied to the genital area before and after the surgery.
Our Team
Dr. Marin will be assisted by a Scripps Memorial La Jolla board-certified anesthesiologist, an experienced registered nurse, and a skilled scrub tech.
Surgery
The typical labiaplasty procedure lasts 30 minutes to 1 hour. This may be extended in order to achieve your desired aesthetic results, or if you choose to undergo a clitoral hood reduction at the same time.
WHAT TO EXPECT FOR YOUR
LABIAPLASTY
LENGTH
30 minutes – 1 hour
RISKS
Wound separation, infection, pain
FINAL APPEARANCE
6 weeks – 3 months
ANESTHESIA
Local with sedation or General Anesthesia
RECOVERY
1 week, 6 weeks for sexual activity
DURATION OF RESULTS
Results should be permanent but can change if a patient goes on to have more children.
SIDE EFFECTS
Temporary swelling and bruising

Recovery & Scars
Labiaplasty is an outpatient plastic surgery procedure. You can return home following a brief, post-operative consultation with your doctor. It is recommended to avoid cleaning the area for 24 – 48 hours.
Swelling and bleeding is normal and will normally subside within 1 month. The application of ice on the genital area, along with the regulated use of prescribed pain killers will ease discomfort. Dr. Marin will use dissolvable sutures that should fade within 1 month.
You can engage in strenuous activities and regular exercise after 1 month. However, it will take 6 – 8 weeks for your labiaplasty wounds to fully heal. After this time, you can resume sexual activity and tampon use.
Testimonial
"After researching consulting many doctors in three different states I opted to go with Dr Marin because he was the only doctor that not only offered his professional opinions but truly considered my personal concerns expectations He knows what hes doing he truly cares about his patients I..."
"I cant say enough amazing things about Dr Marin and his incredible staff I had a consultation at a different place a year prior and thought it went well until I met Dr Marin and was completely blown away They care so much and I felt so comfortable and confident There is no other place I will e..."
"I could not be more pleased with not only my results but Dr Marin and his whole staff My overall experience has been amazing I would do it all over again My only regret is not having had the courage to do it sooner I spent a year pondering on whether or not plastic surgery was for me A whole y..."
"Doctor Marin and his staff have been outstanding They have been excellent throughout my initial consultation surgery and post op I can not express how grateful I am to Dr Marin His surgical skills have changed my life Im 2 weeks post op already my results are incredible I had severe deformit..."
"Dr Marin and his staff were absolutely amazing A lot to be said about a doctor and staff that take the extra time to make you feel like more than just a number Dr Marin himself is a very well educated man that is an expert in every service he has to offer It is very evident that he does not cut..."
Your New Look after Labiaplasty
Your surgical results after labiaplasty should be permanent. Results leave you with a younger, rejuvenated look that can improve sexual function and satisfaction. However, while your results should be permanent, changes can occur from future pregnancies.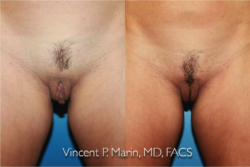 Request Your Consultation
To learn more, you can schedule an appointment online or you can call 858-638-9800
*The images and content provided on this website are developed to educate the public on the procedures offered at Marin Aesthetics. Individual results vary per patient. To assess your candidacy per procedure, we strongly recommend scheduling a formal consultation with board-certified plastic surgeon, Dr. Vincent Marin.