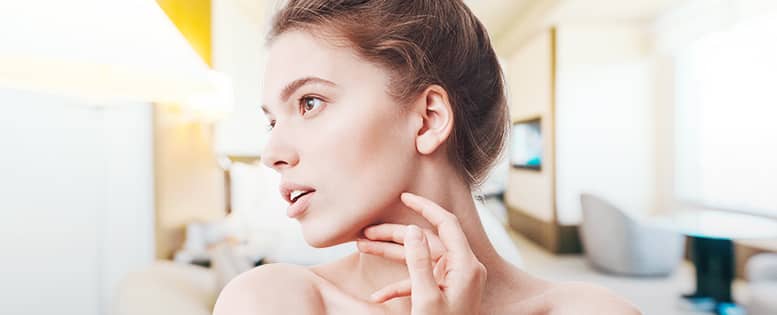 Otoplasty is a surgical procedure that reduces or reshapes or recontours the outer ears to improve them aesthetically and functionally.
Marin Aesthetics is home to board-certified plastic surgeon Dr. Vincent Marin, who has over 20 years of facial plastic surgery experience. He is an expert at creating balanced and beautiful otoplasty results.
Cost & Financing
Otoplasty in San Diego costs $5,500 – 7,000. The final price may differ depending on the specific technique to be used, the complexity of the surgery, surgeon's fees, and anesthesia fees. You will get an accurate quotation during your consultation with Dr. Marin.
Cash, major credit cards, and personal checks are accepted at Marin Aesthetics. We also have various financing options that can help you with your needs.
Before & After for Otoplasty Ear
Patient Information
Age:
Gender:
Height:
Weight:
18-29
Female
5'6" - 5'11"
n/a lbs.
18-29
Female
5'0" - 5'5"
100-125 lbs.
View More Photos
Issues An Ear Surgery Can Address
Defects of the ears can be either congenital or accidental. For congenital cases, it can range from an unnoticeable asymmetry to a complete lack of formation.
On the other hand, others may experience defects because of blunt trauma or injury of the ear due to car accidents, sports injuries, and animal bites. Some of the most common defects of the ears, which can be treated by ear surgery are the following:
Stahl's Ear Deformity – Pointed ears, like an elf's ear
Cat's Ear – Edges of the ear are folded forward
Lop-Ear – Ear curves are severely inward, like a cup
Scroll Ear – Ears are curled forward, like an unread scroll
Wildermuth's Ear – The top ear curve is reversed, bending towards the scalp
Microtia – Underdeveloped ears
Macrotia – Overly large ears
Techniques
Otoplasty covers many forms of surgical enhancements for one or both ears. The specific ear problem dictates which surgery is required to correct the deformity.
Ear Reconstruction
This technique can address uneven or underdeveloped ears by reshaping them or increasing their size.
It is usually achieved via a small incision on the back of the ear, which Dr. Marin can use to perform cartilage grafting or reposition existing ear cartilage.
Prominent Ear Correction
Prominent ears can be repositioned with an otoplasty procedure.
The conchal bowl will be made less noticeable by either suturing or removing cartilage from the back of the ear.
This is designed to help reduce the visibility of the ears when seen from the front.
Ear Reshaping
This is a procedure that helps to correct the unfolding of the ears seen when the anti-helix is not properly formed at birth. Internal permanent sutures are used to recreate a fold that was not properly formed surgically.
This can help improve the shape of the ear and it is frequently combined with the correction of a prominent ear deformity.
This procedure is also performed through a small incision at the back of the ear where it meets the skull.
Before & During the Procedure
Anesthesia
Otoplasty is performed under general or local anesthesia, depending on the complexity of the operation. A Scripps Memorial-certified anesthesiologist will provide this.
Your Team
Dr. Vincent Marin will lead a team consisting of an anesthesiologist, a Scrub Tech, and a licensed Registered Nurse.
Surgery Time
An otoplasty takes 1 – 2 hours to finish. More extensive procedures will lengthen the overall surgery time.
WHAT TO EXPECT FOR YOUR
OTOPLASTY (EAR SURGERY)
RISKS
Pain, bleeding, infection, incomplete improvement, recurrence
FINAL APPEARANCE
1 – 2 months for swelling to resolve completely
ANESTHESIA
General anesthesia (occasionally local anesthetic with IV sedation)
RECOVERY
Back to work with makeup: 1 week
More strenuous activity: 2 – 3 weeks
DURATION OF RESULTS
Permanent
SIDE EFFECTS
Temporary swelling, bruising, and some pain.
Recovery & Scars
You will wake up in a private recovery room with soft, compressive bandages over your ears. These need to stay on for up to 1 – 2 days after surgery, or until your ears stabilize in shape and position. Ear surgery is an outpatient procedure, and you may return home after Dr. Marin clears you to do so.
Full recovery can take up to 2 weeks. This helps ensure proper healing for your ears and prevents damage to your hearing. You may return to work after one week, with Dr. Marin's permission. In the meantime, it is highly recommended to follow these post-op instructions:
Do not wash your hair with shampoo for 2 – 3 days.
You will be asked to wear a compressive headband over your ears for 1 – 2 weeks.
Sleep on your back with your head elevated for one week, or until bruising and swelling goes down.
Avoid strenuous activities or exercises for 2 – 4 weeks.
Avoid submerging your ears in water for 3 – 4 weeks.
You may prefer to wear a soft headband for one month, especially when sleeping. This helps prevent the inadvertent bending of the ear, which could compromise the early surgical result.
Testimonial
"After researching consulting many doctors in three different states I opted to go with Dr Marin because he was the only doctor that not only offered his professional opinions but truly considered my personal concerns expectations He knows what hes doing he truly cares about his patients I..."
"I cant say enough amazing things about Dr Marin and his incredible staff I had a consultation at a different place a year prior and thought it went well until I met Dr Marin and was completely blown away They care so much and I felt so comfortable and confident There is no other place I will e..."
"I could not be more pleased with not only my results but Dr Marin and his whole staff My overall experience has been amazing I would do it all over again My only regret is not having had the courage to do it sooner I spent a year pondering on whether or not plastic surgery was for me A whole y..."
"Doctor Marin and his staff have been outstanding They have been excellent throughout my initial consultation surgery and post op I can not express how grateful I am to Dr Marin His surgical skills have changed my life Im 2 weeks post op already my results are incredible I had severe deformit..."
"Dr Marin and his staff were absolutely amazing A lot to be said about a doctor and staff that take the extra time to make you feel like more than just a number Dr Marin himself is a very well educated man that is an expert in every service he has to offer It is very evident that he does not cut..."
Your New Look After Otoplasty
Your ears will settle into their final results after 1 – 2months. Prominent ears will be better positioned and proportioned with your face, significantly improving your appearance. Scars will be well hidden behind your ears. The results of otoplasty surgery are often long-lasting and should be permanent.
Request Your Consultation
To learn more, you can schedule an appointment online or you can call 858-638-9800
*The images and content provided on this website are developed to educate the public on the procedures offered at Marin Aesthetics. Individual results vary per patient. To assess your candidacy per procedure, we strongly recommend scheduling a formal consultation with board-certified plastic surgeon, Dr. Vincent Marin.