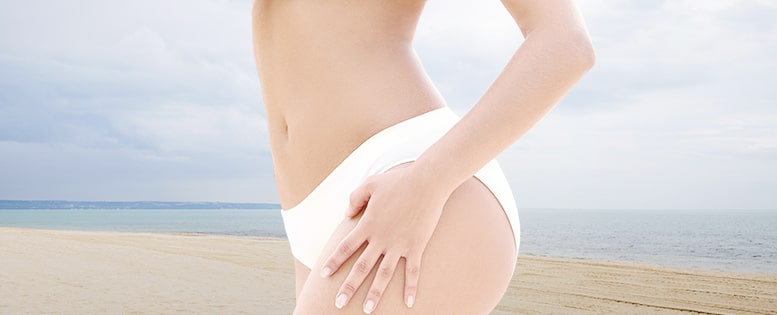 Have you ever wanted to rid yourself of excess, unwanted fat? Liposuction surgery is the answer for patients in good health but has excess fat resistant to diet and exercise.
It is possible to achieve the shape you've always wanted with Dr. Vincent Marin, a top board-certified plastic and cosmetic surgeon of Marin Aesthetics. He has performed liposuction on thousands of patients from all over the country, both in standalone procedures and as part of a mommy makeover procedure.
Cost & Financing
A liposuction procedure in San Diego, on average, can range from $3,000 – $15,000. Certain factors, such as the surgery location or the extent of the procedure or areas treated, may cause the final price to vary. As liposuction is considered cosmetic surgery, most health insurance providers will not cover these costs. Marin Aesthetics instead offers various financial plans tailored for each patient. We also accept cash, personal checks, and all major credit cards.
Types of Liposuction
Tumescent Liposuction
A tumescent fluid mixed with local anesthesia is injected into the areas of the body undergoing liposuction. This mixture causes fat deposits to swell up, making it easier for Dr. Marin to remove the fat cells in the area. The epinephrine in the fluid also minimizes the bleeding and bruising commonly seen after surgery.
Traditional Liposuction (Suction-Assisted Liposuction (SAL))
Thin metal tubes called cannulas are inserted into the areas of unwanted fat. Larger volumes of fat often require bigger cannulas. Traditionally, this procedure is done under general anesthesia; combining this technique with the tumescent fluid is common.
Power-Assisted Liposuction (PAL)
It can sometimes be difficult to pass the cannula through the body's deeper tissues due to a previous procedure or the patient's anatomy. For these cases, Dr. Marin uses cannulas that vibrate back and forth to help break down the fat and make removal easier. As a bonus, this causes far less bruising post-op and can help with skin tightening at the same time.
Ultrasound-assisted Liposuction (UAL)
This more intensive technique first uses ultrasound-emitting cannulas to increase the space between fat cells, causing them to rupture and liquefy. A traditional liposuction technique follows, but more gently removing the ruptured fat cell contents. UAL allows for a large amount of fat to be removed, and the depth of the ultrasound also allows it to break down fat not easily reachable with just a traditional method.
Testimonial
"After researching consulting many doctors in three different states I opted to go with Dr Marin because he was the only doctor that not only offered his professional opinions but truly considered my personal concerns expectations He knows what hes doing he truly cares about his patients I..."
"I cant say enough amazing things about Dr Marin and his incredible staff I had a consultation at a different place a year prior and thought it went well until I met Dr Marin and was completely blown away They care so much and I felt so comfortable and confident There is no other place I will e..."
"I could not be more pleased with not only my results but Dr Marin and his whole staff My overall experience has been amazing I would do it all over again My only regret is not having had the courage to do it sooner I spent a year pondering on whether or not plastic surgery was for me A whole y..."
"Doctor Marin and his staff have been outstanding They have been excellent throughout my initial consultation surgery and post op I can not express how grateful I am to Dr Marin His surgical skills have changed my life Im 2 weeks post op already my results are incredible I had severe deformit..."
"Dr Marin and his staff were absolutely amazing A lot to be said about a doctor and staff that take the extra time to make you feel like more than just a number Dr Marin himself is a very well educated man that is an expert in every service he has to offer It is very evident that he does not cut..."
Before & During the Liposuction Surgery
Anesthesia
Most patients undergo liposuction under general anesthesia, but smaller, more localized areas can be successfully treated via local anesthesia combined with tumescent liposuction.
Your Team
Dr. Vincent Marin will be leading the surgery. He will be assisted by a skilled Scrub Tech and a licensed registered nurse (RN), with a Scripps Memorial board-certified Anesthesiologist providing the anesthesia.
Surgery Time
The whole procedure takes 1 – 3 hours, with more intensive techniques lasting longer. Dr. Marin will also continue operating to contour your body perfectly.
WHAT TO EXPECT FOR YOUR
LIPOSUCTION
LENGTH
1 – 3 hours (depending upon the extent of the procedure)
RISKS
Pain, bleeding, infection, incomplete improvement, and contour irregularities
FINAL APPEARANCE
1 – 2 months
ANESTHESIA
General or local with IV sedation
RECOVERY
Back to work: 1 – 2 weeks
More strenuous activity: 2 – 3 weeks
DURATION OF RESULTS
Permanent
SIDE EFFECTS
Temporary swelling, bruising, and mild pain.

Recovery & Scars
Liposuction surgery is often an outpatient plastic surgery procedure, but Dr. Marin may suggest an overnight stay if large amounts of fat were removed. After surgery, Dr. Marin will evaluate your progress and give you your post-op instructions. Once you are determined to be recovering as expecting, you may go home.
There may be pain and swelling in the treatment areas, but this is easily controlled with oral painkillers and should resolve after a few days. The recovery time for liposuction is relatively short, and patients can resume work, showers, and most physical activities after 4 – 5 days. Dr. Marin will also provide a compression garment that you will wear underneath your clothes for up to 1 month. Liposuction leaves extremely small, barely noticeable scars.
Ideal Candidates for Liposuction
Not all patients are good candidates for liposuction. For the best results, the ideal candidates for liposuction should be over 18 years old and must have the following:
Excessive subcutaneous body fat which is resistant to diet and exercise
A stable weight that is within 15 – 30% of your ideal body weight
A healthy body with no significant medical conditions
Realistic expectations about the procedure
Skin with good elasticity to ensure adequate contraction once the fat is removed
Your New Look After Liposuction
Liposuction will only remove subcutaneous (beneath the skin) fat, which is not very dense tissue. Thus, you should not expect dramatic weight reduction on the scale. However, your new contour will be noticeable. Results may take up to 3 months to appear, or as soon as significant swelling goes away. Your results should last for many years if your weight is maintained with proper diet and exercise. Your skin may also initially feel loose but will adjust and secondarily tighten your new and enhanced shape over time.
Our liposuction patients should enjoy a slimmer figure with reduced body fat and a more youthful appearance. Studies have shown that the procedure routinely boosts confidence and self-esteem. Liposuction may be your first step to a healthier and active lifestyle. Inquire about the procedure here.
Request Your Consultation
To learn more, you can schedule an appointment online, or you can call 858-638-9800
*The images and content provided on this website are developed to educate the public on the procedures offered at Marin Aesthetics. Individual results vary per patient. To assess your candidacy per procedure, we strongly recommend scheduling a formal consultation with board-certified plastic surgeon, Dr. Vincent Marin.