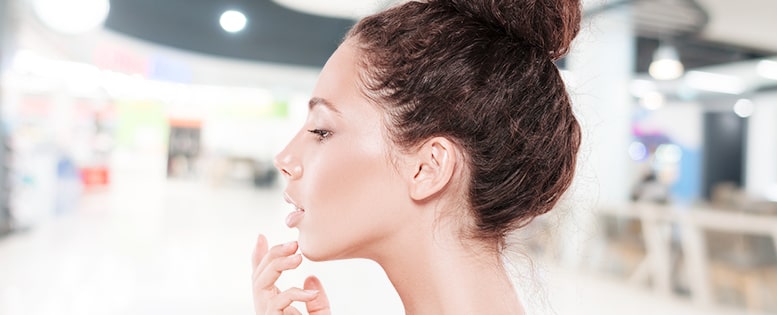 Rhinoplasty often referred to as "nose reshaping" or a "nose job," is a surgery designed to address problems related to both the nasal shape and function of the airway. This can be an issue that both men and women have been born with (commonly a "family trait"), or a problem acquired due to trauma or previous nasal surgery. Rhinoplasty is one of the top five plastic surgery procedures in the United States for both men and women with over 200,000 surgeries performed annually.
Dr. Vincent P. Marin has established himself as one of the leading rhinoplasty surgeons in San Diego & La Jolla, CA, having performed hundreds of successful primary and complex revision surgeries throughout his 14+ year career. He also served as teaching faculty at numerous national meetings including the American Society of Plastic Surgery, the American Society for Aesthetic Plastic Surgery, and the Dallas Rhinoplasty Symposium.
Cost & Financing
The cost for rhinoplasty surgery at Marin Aesthetics ranges from $6, 500 – $10, 000 inclusive of surgeon and anesthesia fees, surgical location, and other medical expenses. However, the final price may exceed the specified range depending on the difficulty or complexity of the procedure.
Marin Aesthetics accepts cash, check, and all major credit cards. We additionally offer a number of financing options through CareCredit and Alphaeon.
Rhinoplasty surgery is sometimes covered by your insurance provider if it is deemed to be a medical necessity and impacts your ability to breathe properly. We recommend that you schedule a consultation to evaluate your options.
Types of Rhinoplasty
Closed or Endonasal Rhinoplasty
All surgical incisions will be made inside your nostrils. While scarring is prevented, there may be challenges and limitations with this approach. It may be difficult to perform more complex rhinoplasty steps such as detailed modification of the tip of the nose and its position.
In certain circumstances, this type of approach is sufficient and allows for a simple reduction of a bump on the bridge or small manipulations to the nasal tip.
Closed rhinoplasty is best suited for patients who are only seeking minor refinements.
Open or External Rhinoplasty
During an open rhinoplasty, a short incision is made across the column of the nose between the nostrils (columella). This is the distinction between the two approaches. This short incision allows Dr. Marin to lift the nasal skin from the tip of the nose, view the whole nasal framework, and make the necessary changes more effectively and efficiently.
The open approach facilitates complete visualization of the anatomy of the nose and allows for a more accurate reshaping of the nasal framework and airway.
Before & During the Surgery
Rhinoplasty is an outpatient procedure performed under general anesthesia. During the surgery, Dr. Marin will reshape your cartilage and bone to produce a more functional and refined nose that is in balance with your existing facial features. The procedure typically lasts for 2 – 4 hours.
Patients who undergo an open rhinoplasty will receive tiny stitches to close the columellar incision. Once the surgery is complete, a splint will be placed over your nose to help maintain the shape during the healing process and limit the swelling.
The nasal splint and stitches will remain for about seven days after surgery. Patients normally experience some swelling and bruising underneath both eyes. You will be given pain medications after the procedure to keep you comfortable during the recovery period.
WHAT TO EXPECT FOR YOUR
RHINOPLASTY (NOSE JOB)
RISKS
Pain, bleeding, infection, incomplete improvement, nerve damage (rare)
FINAL APPEARANCE
Six months for swelling to resolve, most noticeable swelling completely resolves by 2 – 3 weeks
ANESTHESIA
General anesthesia (occasionally local anesthetic with IV sedation for smaller procedures)
RECOVERY
Return to work w/ makeup: 1 – 2 weeks
Strenuous activities: 3 – 4 weeks
DURATION OF RESULTS
Permanent
SIDE EFFECTS
Temporary swelling, bruising, mild pain, mild nose bleeding

Recovery & Scars
The splints will be removed after a week along with other internal splints and sutures. The initial swelling usually resolves in the first 2 – 3 weeks of recovery. Over time, the central features of the nose continue to take a more refined appearance as the remaining swelling gradually subsides.
Here are some tips to remember for a well and fast recovery:
Keep your head elevated when sleeping to reduce bruising and swelling.
You may keep the operated area cold with a compress, but you should not put ice or extremely cold compresses directly on your nose for long periods of time.
Do not bend over or try to pick things up from the ground. Bending increases blood pressure on your wounds, and may cause excessive bleeding.
Wear clothes that button. Avoid clothes that go over your head like T-shirts to prevent dislodging the splint.
Avoid strenuous activities such as lifting heavy things and exercise until advised by Dr. Marin.
Do not wear glasses or sunglasses for at least 4 – 8 weeks.
Testimonial
"After researching consulting many doctors in three different states I opted to go with Dr Marin because he was the only doctor that not only offered his professional opinions but truly considered my personal concerns expectations He knows what hes doing he truly cares about his patients I..."
"I cant say enough amazing things about Dr Marin and his incredible staff I had a consultation at a different place a year prior and thought it went well until I met Dr Marin and was completely blown away They care so much and I felt so comfortable and confident There is no other place I will e..."
"I could not be more pleased with not only my results but Dr Marin and his whole staff My overall experience has been amazing I would do it all over again My only regret is not having had the courage to do it sooner I spent a year pondering on whether or not plastic surgery was for me A whole y..."
"Doctor Marin and his staff have been outstanding They have been excellent throughout my initial consultation surgery and post op I can not express how grateful I am to Dr Marin His surgical skills have changed my life Im 2 weeks post op already my results are incredible I had severe deformit..."
"Dr Marin and his staff were absolutely amazing A lot to be said about a doctor and staff that take the extra time to make you feel like more than just a number Dr Marin himself is a very well educated man that is an expert in every service he has to offer It is very evident that he does not cut..."
Rhinoplasty Candidates
Ideal candidates for a nose job are healthy patients who have never had previous nasal or facial plastic surgery. Rhinoplasty is best for people who:
Have a nose that is too large or too small compared to other facial features
Suffer from a bump on the bridge of the nose
Have a bulbous or wide nasal tip
Have an enlarged or protruding nasal tip
Have a crooked or asymmetrical nose
Are generally unhappy with the shape of their nose
Demonstrate a physical obstruction of the nasal airway (i.e., a deviated septum, airway collapse)
Have difficulty breathing (aside from allergic reactions and medical issues)
Have realistic expectations about the surgery and its outcomes
Wish to improve the results from a previous surgery (revision rhinoplasty)
It is difficult to perfectly communicate what is "too big" or "too small" for every person. Thus, Dr. Marin has found that digital imaging can help us create an image of your potential "new nose" that we both can agree on.
Your New Look After Rhinoplasty
A successful rhinoplasty not only improves facial symmetry, nose shape, and size but also corrects health-related issues such as breathing difficulties and congenital disabilities.
If you are interested in learning more about your rhinoplasty or nasal reshaping options, please contact us for a complimentary cosmetic consultation with Dr. Marin where you can discuss your aesthetic goals as well as the cost of the procedure.
Request Your Consultation
To learn more, you can schedule an appointment online, or you can call 858-638-9800
*The images and content provided on this website are developed to educate the public on the procedures offered at Marin Aesthetics. Individual results vary per patient. To assess your candidacy per procedure, we strongly recommend scheduling a formal consultation with board-certified plastic surgeon, Dr. Vincent Marin.