Last month, I was invited to visit the KUSI News studio for a special report on the growing influence of filtered selfies on plastic surgery patients. As an advocate for the responsible implementation of facial plastic and reconstructive surgery, the subject was particularly close to me.
Understanding Snapchat Dysmorphia
Body Dysmorphic Disorder (BDD) is increasingly common in today's social media-fueled world. BDD is characterized by an individual's belief that there is something physically wrong with their appearance that cannot be seen by others in their life.
Although a small percentage of people suffer from BDD, a newly found variant has recently been proposed base on the new photo altering capabilities of social media platforms. This is known as Snapchat Dysmorphia, this condition affects younger individuals and can have a profound effect on a person's mental health and quality of life.
What is Snapchat Dysmorphia?
The term derives from the popular social media application Snapchat. People are able to take a photo on their phone and then use Snapchat filters to alter their appearance. A person can modify his or her face in a humorous way or apply filters to change the overall appearance. For example, a person could change the shape of their face, alter the nose structure, or perform any other type of facial changes.
While these changes were initially believed to be humorous and for fun, they can actually create insecurity in individuals who do not live up to the alterations artificially created within the filter. With Snapchat filters, a person can immediately create full lips, bigger eyes, or cover up any unwanted or undesirable flaw.
Snapchat Filters and Plastic Surgery
Discussing this phenomenon, here are a few information about this growing disorder. I experienced people coming into my office wanting to look like their idols or Hollywood celebrities. Frequently, an individual who is a fan of a famous singer or actress may want to alter their appearance to look more like their idol. However, with Snapchat Dysmorphia, people are instead coming to plastic surgeons and asking to look like a filtered version of themselves.
While plastic surgeons perform a number of cosmetic procedures, they note that many of the people who come to them with this disorder have unrealistic expectations. Although Snapchat can easily alter a person's appearance, actually creating these changes is much more challenging.
For example, a Snapchat filter can alter many aspects of a person's face. It can make the nose smaller, eyes larger, chin smaller, and skin more refined. However, attempting to surgically make all of these changes can be ill-advised and dangerous. As a result, patients suffering from Snapchat BDD may have expectations that are both unrealistic and excessively costly.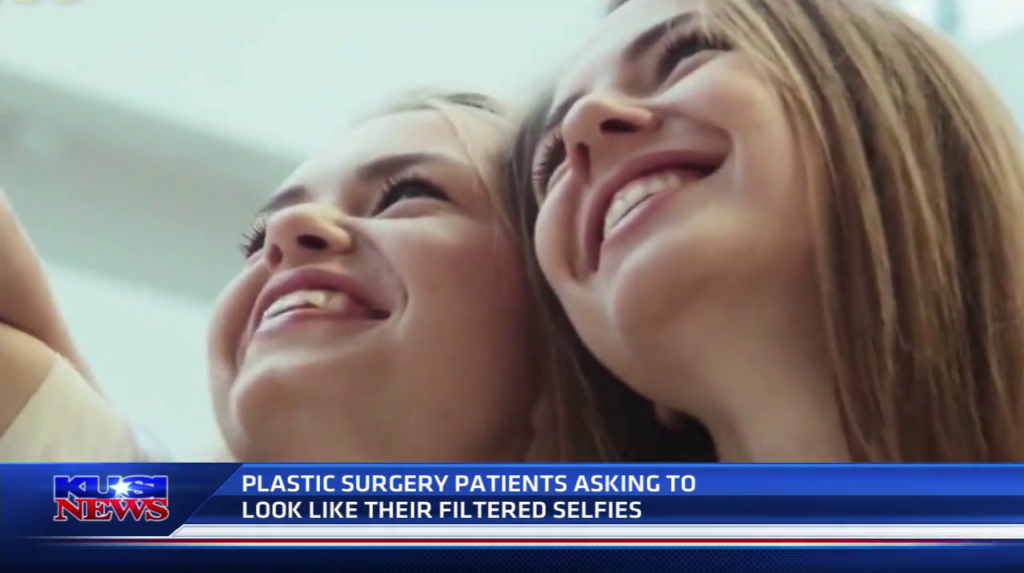 Snapchat and Body Dysmorphia
Exploring this disorder more deeply, Snapchat dysmorphia is a new variant or type of body dysmorphic disorder. A person doesn't see themselves accurately and instead wants to alter their appearance, often in ways that are not needed. This may be due to pressure from outside sources or how the patient actually sees themselves when looking in the mirror.
When comparing one's appearance to their Snapchat self, it's easy to be dissatisfied with reality. Also, a person can have greater doubts with this app and believe that they would be happier or more successful in life if they just looked more like the caricature of themselves.
Appreciating Imperfections
Instead of trying to make all of these cosmetic changes, it may be better to leave social media out of the equation. Although social media has many benefits in connecting people, it can also lead to feelings of inadequacy, regardless of a person's appearance. More importantly, some of the requests that people make aren't even surgically possible.
In order to get close to the Snapchat version of their faces, most people would need to have a complete facial reconstruction. Not only would this cost a person hundreds of thousands of dollars, but it is also dangerous unless needed for medical reasons.
Instead of trying to change a person's appearance to appear like their Snapchat version, many plastic surgeons are encouraging their patients to appreciate their imperfections. Some changes may be beneficial and discussing them with a plastic surgeon is an excellent start. However, it's also important for a person to have realistic expectations about any desired changes and to discuss the risks of any plastic surgery with an expert.
Not all of the changes made by a Snapchat filter are even possible to perform on a person. A good plastic surgeon will discuss what, if any, changes can be made and make recommendations based on the risks involved.
Final Thoughts
Snapchat dysmorphia is the latest iteration of how social media can negatively impact an individual's self-confidence and sense of who they are leading to — unrealistic views of themselves. This condition can be harmful and lead people to seek out useless or impossible procedures that can be both dangerous as well as unnecessary. If cosmetic surgery procedures are desired, it's always best to seek out the opinion of a board-certified plastic surgeon and discuss the benefits and drawbacks involved.
In many of these situations, a plastic surgeon will recommend a particular procedure based upon specific issues that can be corrected with surgery. If specific areas for correction cannot be identified, most reputable surgeons will refuse to treat patients who are suffering from BDD or Snapchat dysmorphia as this can only lead to other problems and not fix the underlying cause.
*The content in this blog is developed to spread the awareness towards plastic surgery. Our blog is not intended to serve as a replacement for an actual in-office consultation with Dr. Marin. As such, the information within this blog reflects the unique cases of our individual patients.