Marin Aesthetics at Ranch and Coast Plastic Surgery
Board Certified Plastic Surgeon Dr. Vincent Marin's ultimate goal is to provide his patients not only the highest level of skill and artistry, but also to be able to deliver this in the most elegant and relaxing environment. As a result, Dr. Marin partnered with Ranch and Coast Plastic Surgery to offer his patients not only unparalleled training and education, but also the latest, state-of-the-art technologies in a serene and comfortable environment.
Breast Augmentation
Across America and here in San Diego, breast augmentation is the most popular surgical procedure. Nearly 300,000 women underwent a breast augmentation last year alone. Feel free to take an in-depth look at this procedure as Dr. Marin walks you through some of the most important decisions you will need to consider if you are thinking about a breast augmentation. Women now have more choices than ever when it comes to breast augmentation; the expanded breast enlargement options allow Dr. Marin to tailor your procedure to your unique needs and goals. However, Many women find it difficult to decide on the surgical approach that is best for them. Dr. Marin will discuss the incisional approaches and implant placement techniques that are available, the advantages and disadvantages of each, and what the resulting scars will look like. He will review the differences in types of implants – silicone-gel versus saline, round versus teardrop, textured vs smooth, and high profile versus low profile – so you can feel confident about the outcome of your surgery. Contact our San Diego office for your breast augmentation consultation.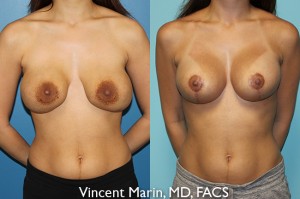 San Diego Breast Revision – Case of The Month #3
This patient is a 24-year-old woman who previously underwent a breast augmentation with saline implants. She subsequently became pregnant and delivered a healthy baby, however, she suffered significant unfavorable cosmetic changes to her breasts. She presented me with complaints of the breasts being misshapen, droopy with larger areolae. And she was interested in her surgical [...]
Join Our Community Today
Although our website is designed to keep our patients educated and fully informed about their surgical and non-surgical options, Dr. Marin regularly updates our facebook page and twitter feed to give you the latest on developments in plastic surgery, emerging products and technology, skin care, cosmetic surgery in the news and celebrities who may or may not have undergone procedures to keep themselves looking beautiful.
San Diego Plastic Surgeon
"My goal as a San Diego plastic surgeon is to be able to combine intricate surgical skills with an artistic eye to help my patients achieve their aesthetic goals & better reflect the beauty within." —Dr. Marin
Welcome to the official website of Board Certified, San Diego Plastic Surgeon Vincent Marin, MD, FACS.  We specialize in cosmetic surgical procedures of the face, breast and body. Conveniently located in beautiful Del Mar, CA, we not only serve all of San Diego and Southern California, but also frequently have patients travel to us from all across the country to undergo cosmetic surgery under the care of board-certified plastic surgeon Dr. Marin.
Complete Surgical and Non-invasive Care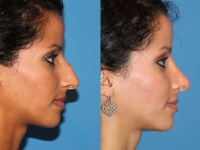 Feel free to explore our site where you will find more information on Dr. Marin's exceptional educational background and training, a full list of all the plastic surgical and non-surgical procedures we offer, before and after cosmetic surgery photos, patient testimonials and information explaining some of our most common surgeries performed in San Diego, such as breast augmentation, rhinoplasty, liposuction and tummy tucks.
We also offer a full complement of non-invasive procedures such as Botox and Dysport injections as well as soft tissue fillers such as Restylane, JUVÉDERM, Radiesse and Sculptra, just to name a few.
Get Social with Dr. Marin
San Diego plastic surgeon Vincent Marin tries to maintain a significant web presence to keep open the lines of communication between our office, our current patients as well as future patients.  Feel free to become a "fan" on Facebook or follow our Twitter page to be one of the first to find out about our latest specials, or just periodically browse Dr. Marin's personal blog.  Dr. Marin makes an effort to help educate his patients about current events relating to plastic surgery, beauty and skin care.  You can also find Dr. Marin's expert answers to real patient breast augmentation and plastic surgery questions on realself.com.  Many of our patients have commented on how helpful these selections can be in further understanding their plastic surgery questions or making the final decision to pursue surgery in the hands of Dr. Marin.
We hope that you enjoy your visit to Marin Aesthetics and find your time on our site well spent.  It is our goal that you leave more educated about aesthetic plastic surgery and prepared to make informed decisions about pursuing all of your aesthetic goals. Contact our practice in San Diego to schedule a breast augmentation consultation or an appointment for another plastic surgery procedure.
Dr. Marin is a magician, I wake up happy every day now!
Dr. Marin put me at such ease during the consultation that I knew it was worth it to take the trip to California to have him perform my surgeries and I am so thankful that I found this amazing doctor and perfectionist.
Dr. Marin is a fantastic surgeon and was able to answer any questions or concerns I had.
Dr. Mairn is true to his word on makeing me happy with my results.
My rhinoplasty and breast augmentation surgeries were performed by Dr. Vincent Marin and it truly was a life changing experience.
After my near 3 hour consultation, I knew that I had to look no further. Dr. Marin and all other staff were attentive, informative, and really made me feel safe and secure
I'd recommend Dr. Marin to everyone!
My results far exceeded my expectations, and I am very grateful!
Dr. Marin is honest, genuine, and exhibits a true passion for his art and is able to see each patient as an individual, not simply as another face or pair of boobs to fix.
I can't wait for my next "improvement" procedure because it will, without a doubt, be with Dr. Marin!
His down to earth attitude and artistic craftsmanship far exceeded my expectations and put any fears that I had of "going under the knife" at ease.
I would recommend anyone considering plastic surgery of any kind to choose Dr. Vincent Marin, he will take good care of you and you will be amazed at the end results!
Thank you so much for all that you have done for me...making sure everything was set up just perfectly, calling to check on me, and doing a great job!
I am really pleased with the outcome and I thank you for your ability to please the patient!
I didn't know that a doctor could be so compassionate and in tune to a patient's needs and conerns...
My wife and I have truly blessed by Dr. Marin and by his dedication to his profession and his patients...
Dr. Marin performs miracles!
Just wanted to say thank you to Dr. Marin for taking such good care of my sweet mom!
Associations
Call 858.356.5187 or complete this form and someone from our office will get back to you.
Marin Aesthetics
Dr. Vince Marin, Plastic Surgeon
1431 Camino Del Mar
Del Mar, CA 92014
Phone: 858.356.5187
Toll Free: 888.638.9894
Fax: 858.551.9071
Dr. Marin provides plastic surgery services to the entire San Diego County community.