Marin Aesthetics at Ranch and Coast Plastic Surgery
Board Certified Plastic Surgeon Dr. Vincent Marin's ultimate goal is to provide his patients not only the highest level of skill and artistry, but also to be able to deliver this in the most elegant and relaxing environment. As a result, Dr. Marin partnered with Ranch and Coast Plastic Surgery to offer his patients not only unparalleled training and education, but also the latest, state-of-the-art technologies in a serene and comfortable environment.
Breast Augmentation
Across America and here in San Diego, breast augmentation is the most popular surgical procedure. Nearly 300,000 women underwent a breast augmentation last year alone. Feel free to take an in-depth look at this procedure as Dr. Marin walks you through some of the most important decisions you will need to consider if you are thinking about a breast augmentation. Women now have more choices than ever when it comes to breast augmentation; the expanded breast enlargement options allow Dr. Marin to tailor your procedure to your unique needs and goals. However, Many women find it difficult to decide on the surgical approach that is best for them. Dr. Marin will discuss the incisional approaches and implant placement techniques that are available, the advantages and disadvantages of each, and what the resulting scars will look like. He will review the differences in types of implants – silicone-gel versus saline, round versus teardrop, textured vs smooth, and high profile versus low profile – so you can feel confident about the outcome of your surgery. Contact our San Diego office for your breast augmentation consultation.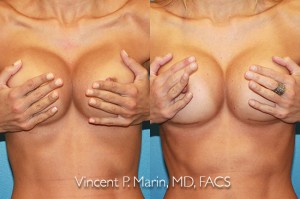 Repair of Synmastia and Breast Implants in San Diego
Synmastia is a condition where a patient's breast implant crosses the midline of the chest resulting in  the loss of the distinct cleavage area. The skin is often lifted up from the breast bone (sternum) which is normally firmly attached. This can result in a very unnatural appearance and something that is particularly troublesome for […]
Join Our Community Today
Although our website is designed to keep our patients educated and fully informed about their surgical and non-surgical options, Dr. Marin regularly updates our Facebook page, Google Plus page, and Twitter feed to give you the latest on developments in plastic surgery, emerging products and technology, skin care, cosmetic surgery in the news and celebrities who may or may not have undergone procedures to keep themselves looking beautiful.
A Skilled, Board-certified Plastic Surgeon
"My goal as a plastic surgeon is to be able to combine intricate surgical skills with an artistic eye to help my patients achieve their aesthetic goals & better reflect the beauty within." —Dr. Marin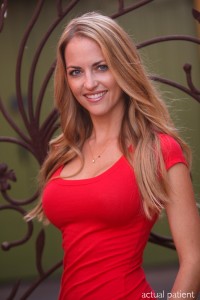 Welcome to the official website of San Diego Plastic Surgeon Vincent Marin. Dr. Marin specializes in the artistry of natural and beautiful surgical results. He has been educated at some of the most prestigious institutions in the world, having advanced degrees from both Harvard and Columbia Universities. Dr. Marin wants patients to understand that they are in the best hands possible, and he maintains active membership in The American Society of Plastic Surgeons (ASPS), The American Society for Aesthetic Plastic Surgery (ASAPS) and is a Fellow of the American College of Surgeons (FACS). Dr. Marin is Board Certified by the American Board of Plastic Surgeons, the only official board of the American Board of Medical Specialties (ABMS) certifying aesthetic plastic surgeons. Dr. Marin is a regular guest on the Fox 5 San Diego Morning News.
Dr. Marin specializes in cosmetic plastic surgery of the face (facelift, neck-lift), breast (augmentation and lifts), body (liposuction and tummy tucks) and nose (rhinoplasty and revision rhinoplasty). Dr. Marin has been in practice for nearly a decade and remains on the cutting edge of the latest surgical and non-surgical techniques.
Our offices, at Ranch and Coast Plastic Surgery, are located in the heart of beautiful Del Mar, CA, and encompass over 5,000 sq. ft. of an elegant spa-like facility which includes a AAAASF (American Association for Accreditation of Ambulatory Surgical Facilities) accredited outpatient surgical facility fully equipped for a 23 hour, overnight stay. We offer superb aesthetician services, skin care management and laser treatments with the latest technology in treating fine lines and age-related changes. Our office also includes a boutique called Pebbles by the Beach, which offers the finest in casual elegance perfectly suited to the year round temperate climate in Southern California.
Find Us On the Web
Find us on the web and stay up on the latest news and information with us on Facebook, Twitter, and Google Plus. If you are from out-of-town or just don't have the time to make it into the office, undergo an Internet consultation and Dr. Marin can virtually "consult" with you online.
Associations