San Diego Arm Lift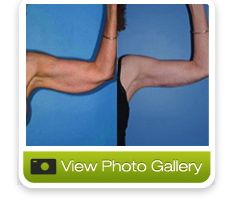 Excess upper arm skin from significant weight loss or just with age can be a source of concern for many women and men. This can be such an issue that patients refuse to wear short sleeve garments or are very self-conscious about waving or raising their arms. An arm lift or brachioplasty is specifically designed to help correct and improve excess upper arm skin and fatty tissue. Contact our San Diego office for an arm lift consultation at Marin Aesthetics in Del Mar. Dr. Vince Marin can determine if you are a suitable candidate for arm contouring surgery.
Arm Lift Techniques
Arm lift surgery or brachioplasty is designed to remove excess skin from the upper arm to improve contour and shape, helping to reveal underlying muscle tone and form. There are several different approaches to an arm lift and this is based upon what type of problems each patient demonstrates in the consultation.
Our San Diego arm lift patients must understand that there is a tradeoff with any arm-lift surgery: improved form for a scar. Similarly, the biggest patient concern with this operation procedure is the postoperative scarring. The length of the incision is directly based upon how much skin excess is present and what is required to fully correct the upper arm. I have found that although every patient is concerned with a scar before surgery, nobody wants a partial correction of their problem to save on scar length. I will make every effort to limit the scarring, but not at the expense of getting the best possible result.

WHAT TO EXPECT FOR YOUR
Arm Lift
Length:
2 hours (depending upon the extent of the procedure)
Anesthesia:
General
In/Outpatient:
Outpatient
Side Effects:
Temporary swelling, bruising and some pain
Risks:
Pain, bleeding, infection, fluid collections, wound healing problems, blood clots
Recovery:
Back to work: 1 – 2 weeks
More strenuous activity: 4 – 6 weeks
Final Appearance:
2 – 3 months
Duration of Results:
Permanent
Liposuction
Liposuction alone can be used to help contour and shape the upper arm if the main issue is unwanted fatty tissue and not excess skin. This approach has the least amount of scarring and has the mildest recovery.
Mini Arm Lift
If the excess skin is mild in severity, patients are candidates for a mini arm lift where the scarring is limited to the armpit alone. This technique can be combined with liposuction where patients can correct both mild excesses of skin and fatty tissue in the arm.
Arm Lift
As the degree of skin excess becomes more significant, the scar must extend further down the arm toward the elbow. This allows me to remove the redundant skin and fatty tissue beneath improving the shape and contour of the upper arm.
Extended Arm Lift
In more severe cases, excess skin can extend beyond the elbow onto the forearm. Thus, the scarring will need to extend further down the arm and cross the elbow. Often, we have to make a small zigzag to prevent limitations at the elbow, but the most dramatic changes on the upper arm result from an extended arm lift procedure.
Arm Lift Recovery
Depending upon the extent of the surgery, more aggressive approaches may require the use of a drain for several days. Sutures are absorbable and there is no need for suture removal. Our San Diego arm lift patients will be able to use their arms immediately after surgery, but we will limit activity and the amount of raising the arms you immediately following the procedure. After surgery, patients will wear compressive, sleeved garments for up to six weeks.
Arm Lift Costs
The cost of upper arm lift surgery is generally around $8,000.
San Diego Arm Lift Consultations
Contact our La Jolla office to schedule your consultation with Dr. Marin.
Call 858.356.5187 or complete this form and someone from our office will get back to you.
Marin Aesthetics
Dr. Vince Marin
1431 Camino Del Mar
San Diego, CA 92014
Phone: 858.356.5187
Toll Free: 888.638.9894
Fax: 858.551.9071
Dr. Marin provides plastic surgery services to the entire San Diego County community.