Add Volume and Contour with Butt Augmentation
"Everywhere you look in the media, butts are in," said Dr. Scott Glasberg, president of the American Society of Plastic Surgeons.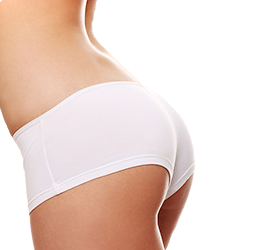 Whether it is boosted by Kim Kardashian or Jennifer Lopez, it is without a doubt that butt augmentation is one of the fastest rising plastic surgery procedures in the past years. In Marin Aesthetics, it has become one of the most sought after procedure – more and more people striving for bigger behinds. A shapelier backside has become nearly as desirable as larger, fuller breasts.
Butt augmentation is a procedure which can give you a more attractive, youthful buttocks produced through a number of surgical procedures depending on your needs. In our La Jolla plastic surgery office, we offer a number of different butt augmentation procedures to help San Diego patients reshape and lift their buttocks.
Ideal Candidates for Butt Augmentation
You may be a great candidate for butt augmentation if:
You are physically and emotionally healthy.
Your buttocks are too small for your body.
You are unhappy with your behind because it's asymmetrical.
Weight loss or aging made your buttocks loose and sagging.
Your clothes and swimsuits do not fit you properly.
You have realistic expectations about the outcomes of butt augmentation.
Undergoing Butt Augmentation Surgery
There are many types of butt augmentation which you can choose from and combine depending on your needs. It is quite common that patients will present complaints that encompass a number of different issues. Dr. Marin will help you reach a decision that will be best for you and your lifestyle. In Marin Aesthetics, the following types are offered: the Brazilian Butt Lift, Buttock Implants, and the Butt-Tuck Procedure.
The Brazilian Butt Lift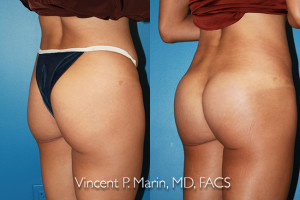 The Brazilian buttock is said to be the cosmetic ideal and the envy of women. This procedure is often the first choice for most women since it combines the beneficial contouring effects of liposuction in addition to the shaping effects of fat grafting. Fatty tissue is removed from the lower back, flanks, waist, thighs, and abdomen – providing a thinner, feminine silhouette in the areas surrounding the buttock.
The harvested fat is processed, rinsed, filtered and prepared for re-injection into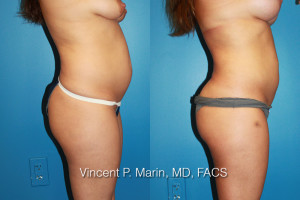 the body. The fat is then strategically injected into the buttock muscle and fatty tissues to help reshape the buttock where it is deficient. Capitalizing on the popularity of Brazilian butt lift procedure, some surgeons have renamed it the "Thong Lift." The only reported difference in this procedure is that the imperceptible needle access incisions are only placed in the area that would be concealed by a thong.
The Brazilian butt lift procedure is virtually scar-less. Since the entire procedure is performed using thin, needle sized "cannulas" or metal tubes, there is virtually no scarring. Thus, even in a string bikini, there should be no evidence that you ever underwent the procedure.
Buttock Implants
This procedure was the first buttock augmentation procedure to be available and involves the placement of solid but soft, silicone implants into the gluteal region to produce a fuller buttock. This procedure is better suited to thin patients that do not have enough fat to be a suitable candidate for the Brazilian butt lift.
A small incision is made in the intergluteal cleft (the space between the buttocks) and implants are inserted, much like breast augmentation, into spaces created either underneath the buttock skin and fat, or in-between the buttock muscles. The implants produce an immediate and significant improvement in the appearance of the rear end. Since the implant is silicone, there is no risk for eventual loss of the "volume" or shape produced by the implants. In a bikini or even thong, there should be no visible evidence of any surgical incision.
The Butt-Tuck Procedure
The Butt-Tuck procedure is another option to reshape the gluteal area. As we age, after pregnancy or significant weight loss, the buttock skin can sag at the gluteal crease. This excess skin can be seen in a bikini, tennis skirt, or even in tight jeans. If the buttock still has a good fullness and shape, Dr. Marin can simply remove the excess skin and fatty tissue that obscures the junction of the buttock with the back of the thigh. The scar is well-placed within the buttock crease and helps to restore a seamless transition from the rear end to the upper thigh.
San Diego patients now can achieve a rounder buttock without the sagging skin commonly seen with aging or after pregnancy. This area cannot normally be filled with fat, as it would just enhance the excess – making the lower buttock too full and leading to an unattractive result.
After Your Butt Augmentation
Following your butt augmentation procedure, you will feel tired and sore, especially on the backside. Your pain will be easily handled by prescribed medications by Dr. Marin.
Drains will also be put to remove excess fluid that may accumulate as you heal. Marin Aesthetics will also provide you with compression garments which you have to wear religiously over the areas treated. Butt augmentation is an outpatient procedure, so you may be allowed to go home right after the surgery. However, in some instances, Dr. Marin may advise some patients to stay.


OMG!! My boobs look absolutely unbelievable!!! I cant thank you enough for making this experience so wonderful. Your work is impeccable! From the first phone call, you and your staff have been so
Dr. Marin is a magician, I wake up happy every day now
Words fail to adequately convey how grateful and genuinely happy I am with your work. …and I couldn't have imagined it coming out any better. This has been the BEST pampering I have ever
Wow! Voila? Bingo! or "D" all of the above! Loving your work…. Thank you, thank you! You chose the perfect everything for me! Merry X-Mas and best for a great 2009
My surgeon Dr. Vincent Marin far exceeded my expectations. Three months ago I had breast augmentation and rhinoplasty performed on the same day and could not have asked for a better team of highly

Recovery from Butt Augmentation
Recovery time for butt augmentation patients varies from one person to another. To avoid complications and to speed the healing process, it's best for you to follow the aftercare instructions given by Dr. Marin. Postoperative care may be different from each of the butt augmentation procedure.
Brazilian Butt Lift
Do not sit for three weeks after your surgery.
If you already can, walk to help reduce swelling and lessen the chance of blood clots.
Avoid strenuous exercise for at least for weeks.
Do not submerge yourself in hot tubs, pools, and the like for the next four weeks.
Wear the pressure garment 24 hours a day for one whole week, except during showering.
Keep your incisions from the sun to minimize scarring.
Butt Implants
Avoid sitting and sleeping on your back for a week.
Use soft cushions if you are to sit in order to protect the operated area.
Do not perform strenuous activities such as gym work, running, bicycling, and the like for at least four weeks.
Do not submerge yourself in hot tubs, pools, and the like for the next four weeks.
Your New Look
Results of buttock augmentation procedures are long-lasting under normal circumstances.
For Brazilian butt lift patients, the fat will remain there for the rest of your life. Like other fat tissues in your body, it will grow and age as you do. For those who had implants placed in their behinds, the implants will only be removed if rare complications arise.
After the procedure, you may find that your clothes and swimwear fit you better. You will have a more balanced and shapely body. Your buttocks will be rounder, firmer, and more youthful, giving your appearance additional curves.
While butt augmentation may give you an improved body shape and contour, you should keep a healthy lifestyle to maintain your new appearance to enjoy its long-lasting results.
Request Your Consultation
To learn more, you can schedule an appointment online or you can call 858-638-9800
9:35 AM