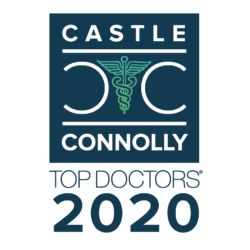 Marin Aesthetics is pleased to announce that last October, our very own Dr. Vincent Marin was recognized as one of San Diego's Top Doctors by the leading healthcare research company, Castle Connolly, in their annual list.
Castle Connolly's Top Doctors list has become a valuable resource for patients and medical professionals in the United States. The annual list is determined by the company's highly-respected nomination, research, screening, and selection process, which gathers thousands of licensed physicians from every corner of the country, among multiple specialties and disciplines.
(Read: San Diego's Top Doctors 2020: The List – San Diego Magazine)
How Castle Connolly Determines Top Doctors
The nomination process took place online at Castle Connolly's official website and was open to all licensed physicians throughout the country. After the nominations were made, a team of researchers and physicians followed a rigorous screening process to determine this year's Top Doctors on a national and regional level.
"It is indeed an honor to be recognized as one of San Diego's top doctors by Castle Connolly's Top Doctors list for 2020," shares Dr. Vincent Marin. "Castle Connolly's annual list of both nationwide and regional Top Doctors is a carefully-curated list that ensures patients attain only the best care from licensed and board-certified medical professionals currently practicing in the United States today. To be recognized on this list is a testament to the collective efforts of the entire Marin Aesthetics team."
Through their annual Top Doctors national and regional lists, Castle Connolly aims to provide patients from coast-to-coast with a comprehensive guide to the country's leading doctors, covering their education, training, and professional experience in guides, magazine features, and digital directories.
Schedule a consultation today with our San Diego Top Doctor, Dr. Vincent Marin. Contact our office at 858-638-9800 to learn more.
*The content in this blog is developed to spread the awareness towards plastic surgery. Our blog is not intended to serve as a replacement for an actual in-office consultation with Dr. Marin. As such, the information within this blog reflects the unique cases of our individual patients.