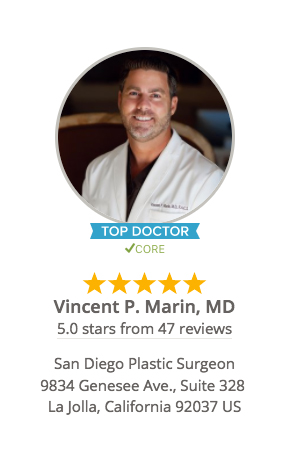 Due to his outstanding credentials and the years of commitment he has shown to his patients, Dr. Vincent Marin has been recognized as a "Top Doctor" on RealSelf.com. After its launch in 2006, RealSelf.com has established a highly respected community that's allowed patients to connect with the best board-certified plastic surgeons in the world.
RealSelf.Com is the largest online medical community in the world of aesthetic medicine, cosmetic treatment, and plastic surgery. The site reaches an estimated 8 million unique visitors every month and encourages users to engage with doctors through questions and answers, treatment reviews, and share photos of their experiences.
The recognition as a RealSelf "Top Doctor" is a highly regarded and internationally recognized status that is awarded to surgeons who have made a number of remarkable contributions to the digital community, such as:
High patient satisfaction (based on reviews)
Significant time allotted for Q&A's
Positive feedback on expert answers
Participation in other activities
With a career that spans 12 years, Dr. Vincent Marin acquired his RealSelf "Top Doctor" status by sharing his insight with users from across the world by answering over 2,000 questions. Combined with 37,000 profile views, it's no surprise that Dr. Marin has attained the highly-coveted award.
On Realself, Dr. Marin continues to shares his understanding of gynecomastia, revisional rhinoplasty, and breast augmentation, among other procedures.
Dr. Marin is one of the most decorated and prolific plastic surgeons in the San Diego area and receives excellent reviews from actual patients. Please read some of his patient testimonials.
To experience the craftsmanship of Dr. Vincent Marin, contact us today. Click here to get started.
*The content in this blog is developed to spread the awareness towards plastic surgery. Our blog is not intended to serve as a replacement for an actual in-office consultation with Dr. Marin. As such, the information within this blog reflects the unique cases of our individual patients.